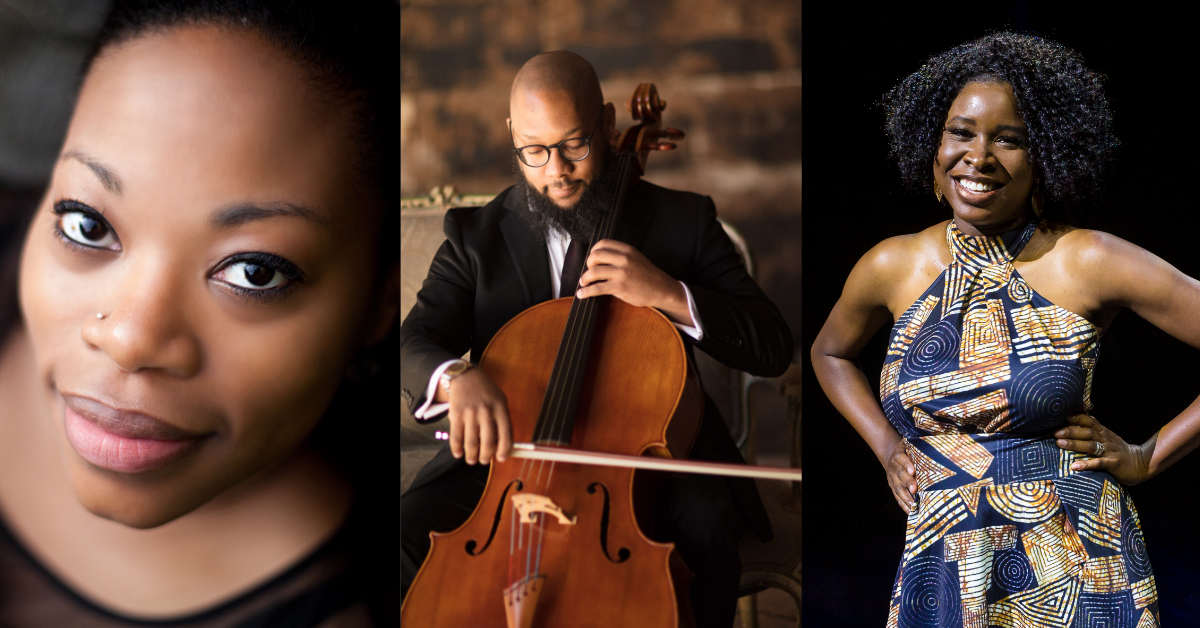 Recognized by the Austin Critics Table, this piano trio featuring Ebonee Thomas, Ryan Murphy, and Artina McCain reunites to perform works that explore cultural vibrance and connection from France, Mexico, and the United States. The program includes music by Debussy, Samuel Zyman, and Undine Smith Moore.
Seating pods of 1-4 people will be created based on each ticket order. Pods will be spaced six feet apart. Masks are no longer required but are recommended for unvaccinated people. Subject to availability, $12 Student Rush (with student ID) and $35 General Admission tickets may be purchased at the box office on the evening of the concert. Please note that the venue capacity is very limited. Premium seats are sold out for this event.
If you prefer to watch the livestream, please select a virtual ticket. Virtual tickets are available on a sliding scale and include on-demand access through July.
Program
Piano Trio in G Major | Claude Debussy (1862–1918)
Andantino con moto allegro
Scherzo. Intermezzo. Moderato con allegro
Andante espressivo
Finale. Appassionato
Suite de la Mancha | Samuel Zyman (b. 1956)
Don Quijote
Sancho Panza
Dulcinea
Rocinante
Afro-American Suite | Undine Smith Moore (1904-1989)
Andante
Allegro molto e marcato
Adagio ma appassionato
Allegro molto
Ebonee Thomas, flute
Ryan Murphy, cello
Artina McCain, piano
Ebonee Thomas
Hailed for her "verve and pizazz" and the "gleaming purity" of her artistry by the Miami Herald, Ebonee Thomas is Second Flute and Piccolo of The Dallas Opera. Ebonee is a Piccolo Artist for Burkart Flutes and spends her summers as Second Flute and Piccolo with the Central City Opera. She has previously served as Principal Flute of the Knoxville Symphony and the Florida Grand Opera, and spent one year as Second Flute of the Houston Symphony. In addition she has performed as Guest Principal Flute with the Seattle Symphony, San Antonio Symphony, Santa Fe Opera, and the Fort Worth Symphony. Ebonee has also performed with the Los Angeles Philharmonic, Oregon Symphony, Sarasota Orchestra, Phoenix Symphony, Detroit Symphony and Dallas Symphony.
Ryan Murphy
A native of St. Louis, Ryan Murphy is currently in his eighth season with the San Antonio Symphony. He was previously the OTPAAM fellow with the Pittsburgh Symphony Orchestra. He received his master's degree from the Juilliard School with Bonnie Hampton and while still a student at the Cleveland Institute of Music with Stephen Geber, Mr. Murphy made his solo debut with the Detroit Symphony followed by an additional solo appearance with the Cleveland Orchestra. Both performances came as the result of placing second in the Sphinx Competition in 2003. He is in his sixth year as adjunct cello instructor at the University of Texas San Antonio.
Artina McCain
Described as a pianist with "power and finesse" (Dallas Arts Society), "beautiful and fiery" (KMFA Austin) and having a "sense of color, balance and texture" (Austin Chamber Music Center), Artina McCain has built a three-fold career as a performer, educator, and speaker. Recent performance highlights include guest appearances with the Dallas Symphony Orchestra, Oregon East Symphony, and the Memphis Symphony Orchestra.
McCain's performances have been heard on CKWR Toronto, KMFA Classical Austin, and Radio Television Hong Kong (RTHK). Television appearances include CSPAN's MLK 50 Commemoration. In 2021, McCain won a Gold Global music award for her solo album "Heritage" featuring the music of African American and American repertoire. In 2022 she will make her debut appearance at Wigmore hall in London featuring the works of African composers.