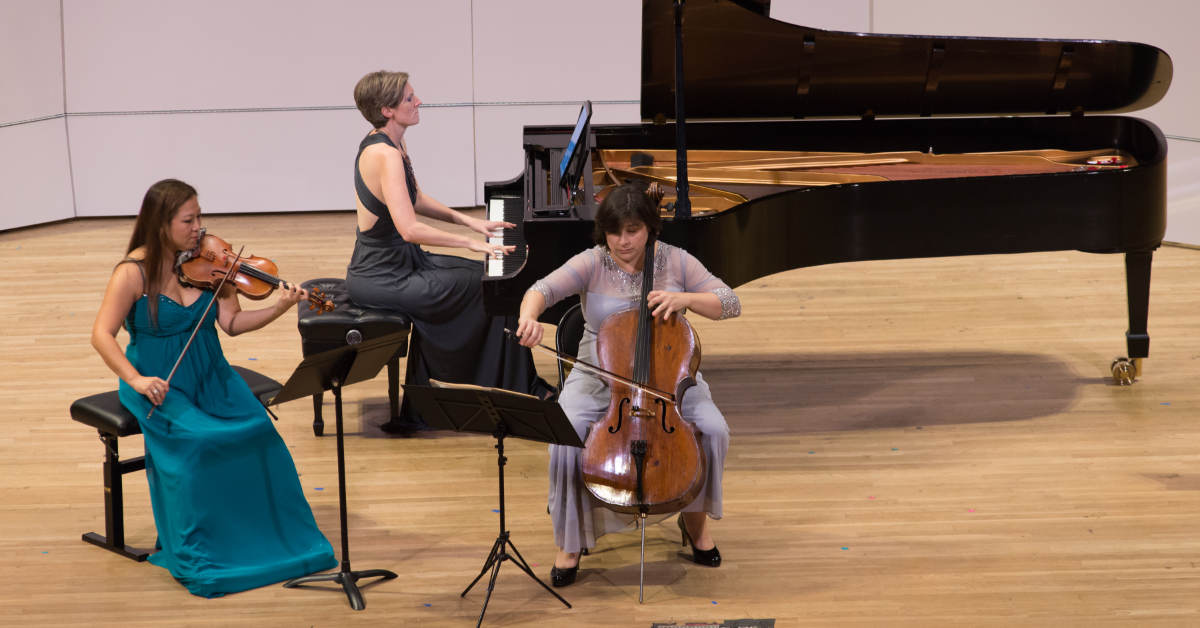 Music to stir the high emotions of the times. Schumann Chamber Players kicks off the festival with some of the most exciting and moving repertoire ever composed. This special 25th anniversary opening night program includes works by Rachmaninov, Baker, and Mendelssohn.
Seating pods of 1-4 people will be created based on each ticket order. Pods will be spaced six feet apart and masks will be required.
Outdoor tickets are SOLD OUT for this event. To watch the livestream, please select a virtual ticket. Virtual tickets are available on a sliding scale and include on-demand access through July.
Program
Trio élégiaque No. 1 in G Minor | Sergei Rachmaninov (1873-1943)
Roots II | David Baker (1931–2016)
Jubilee
Sorrow Song
Boogie Woogie
Piano Trio No. 1 in D Minor, Op. 49 | Felix Mendelssohn (1809–1847)
Molto allegro agitato
Andante con moto tranquillo
Scherzo: Leggiero e vivace
Finale: Allegro assai appassionato
Sandy Yamamoto, violin
Amy Levine-Tsang, cello
Michelle Schumann, piano
Sandy Yamamoto
Violinist Sandy Yamamoto has dazzled audiences in concert performances around the globe for the past three decades as a soloist and as a member of the Miró Quartet. The New York Times describes her performance as playing with "explosive vigor and technical finesse." With the Quartet, she performed on the major concert stages of the world, regularly concertizing in North America, South America, Europe and Asia. She was a recipient of the Naumburg Chamber Music and Cleveland Quartet Awards, won First Prize at the Banff International String Quartet Competition and was one of the first chamber musicians to be awarded an Avery Fisher Career Grant. Currently, she is the Associate Professor of Practice in Violin Performance at the Butler School of Music at the University of Texas at Austin and was the recipient of the 2016 Butler School of Music Teaching Excellence Award. In the summers, she teaches at the Green Mountain Chamber Music Festival. Ms. Yamamoto often performs with the East Coast Chamber Orchestra as well as the St. Paul Chamber Orchestra. When she is not busy teaching and performing, Ms. Yamamoto enjoys spending time with her husband, Daniel, her two sons, Adrian and Brian, and her cat, Poko.
Amy Levine-Tsang
Cellist Amy Levine-Tsang enjoys an active career as both chamber musician and teacher. She is a founding member of the Laurel Trio and frequently collaborates with numerous ensembles such as the Brentano, Cassatt, Colorado, and Meridian String Quartets, the New Jersey Chamber Music Society, the Richardson Chamber Players, and the Chamber Soloists of Austin. She received degrees from Yale and Rutgers Universities, where she studied with Aldo Parisot and Bernard Greenhouse, respectively. She is a former member of the music faculty at Princeton University, and continues to teach privately since relocating to Austin.
Michelle Schumann
Hailed for her "sensitive, flexible, and tempestuous dexterity" (Fanfare Magazine), pianist Michelle Schumann has built a reputation for evocative and moving performances. Since 2006, Michelle has served as Artistic Director of the Austin Chamber Music Center, where she "is fearlessly expanding our definition of chamber music" (Austin American-Statesman). Her brand of performance includes an enthusiastic interplay with the audience and her trademark includes bringing diverse music together under a blanket of narrative events.
Schumann is artist-in-residence and professor of piano at the University of Mary Hardin-Baylor. She received a Doctor of Musical Arts degree from the University of Texas at Austin and additionally holds a Performance Diploma from the Vienna Conservatory.