Sponsored by Jeff & Gail Kodosky and Herb Schwetman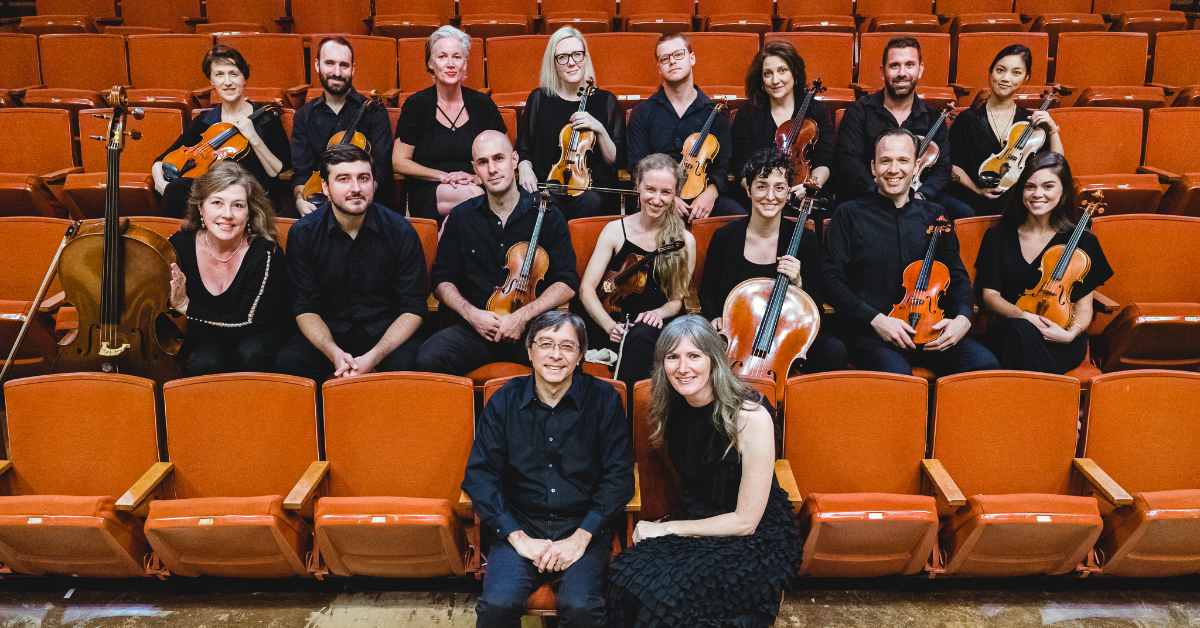 The hand-sculpted Festival Chamber Orchestra features the finest players in Austin led by Maestro Peter Bay, providing the quintessential Austin Chamber Music Festival experience.
Save up to 25% on tickets with flexible discount packages for 3+ concerts! Single tickets on sale April 1. Subject to availability, $12 Student Rush (with student ID), $40 General Admission, and $80 Premium tickets may be purchased at the box office on the evening of the concert. The box office will open at 7:00 PM that day.
Program
Strum | Jessie Montgomery (b. 1981)
Holberg Suite, Op. 40 | Edvard Grieg (1843–1907)
Prelude
Sarabande
Gavotte
Air
Rigaudon
Wedding Cake (Caprice-Valse), Op. 76 | Camille Saint-Saëns (1835–1921)
INTERMISSION
Piano Concerto No. 8 in C Major, K. 246 | Wolfgang Amadeus Mozart (1756–1791)
Allegro aperto
Andante
Rondeau: Tempo di menuetto
FESTIVAL CHAMBER ORCHESTRA
Peter Bay, conductor
Michelle Schumann, piano
Will Fedkenheuer, Zachariah Matteson, Camille Schiesse, Mariama Alcântara, Antonio Cevallos, Haley Dietz, violins
Karl Mitze, Ruben Balboa, Leah Nelson, violas
Anna Park, Geoff Manyin, Elizabeth Lee, cellos
Josue Martinez, bass
Gabriel Grant & Madeline Warner, oboes
Francisco Ramos & Ethan Gurwitz, horns
We are closely monitoring the pandemic and its impact on in-person events. With the health and safety of our community in mind, ACMC has updated our COVID-19 guidelines in accordance with City of Austin and CDC. View all recent updates to our programming by visiting our COVID-19 Response page.
Peter Bay
Peter Bay became Music Director and Conductor of the Austin Symphony Orchestra in 1998. He is also conductor of the Bravo! Big Sky Classical Festival Orchestra (MT) and Arizona Philharmonic, and the primary conductor for Ballet Austin.
A native of Washington, DC, Mr. Bay is a graduate of the University of Maryland and the Peabody Institute of Music. In 1994, he was one of two conductors selected to participate in the Leonard Bernstein American Conductors Program. He was the first prize winner of the 1980 Baltimore Symphony Orchestra Young Conductors Competition and a prize winner of the 1987 Leopold Stokowski Competition sponsored by the American Symphony Orchestra. In July 2012 he appeared in Solo Symphony, a choreographic work created for him by Allison Orr of Forklift Danceworks. He was inducted into the Austin Arts Hall of Fame in May 2016.
Michelle Schumann
Hailed for her "sensitive, flexible, and tempestuous dexterity" (Fanfare Magazine), pianist Michelle Schumann has built a reputation for evocative and moving performances. Since 2006, Michelle has served as Artistic Director of the Austin Chamber Music Center, where she "is fearlessly expanding our definition of chamber music" (Austin American-Statesman). Her brand of performance includes an enthusiastic interplay with the audience and her trademark includes bringing diverse music together under a blanket of narrative events.
Schumann is artist-in-residence and professor of piano at the University of Mary Hardin-Baylor. She received a Doctor of Musical Arts degree from the University of Texas at Austin and additionally holds a Performance Diploma from the Vienna Conservatory.