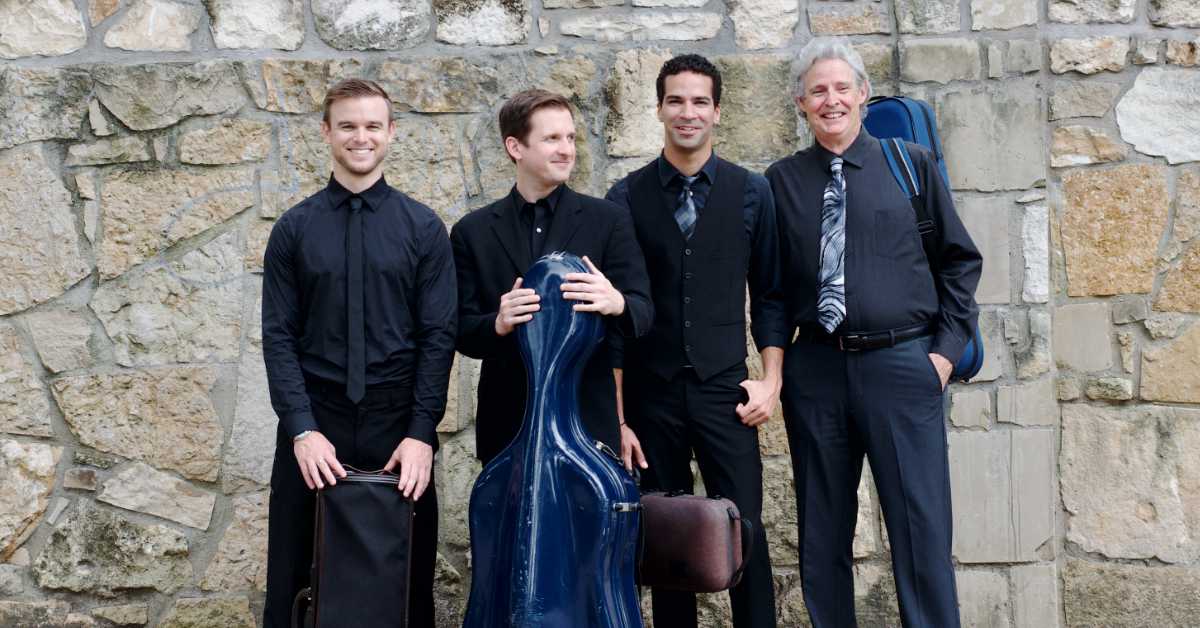 Tonight's Festival concert will be online only. Even if the rain lets up around concert time, we determined that the lawn is too wet and muddy to safely and comfortably provide seating. We also do not want to risk putting anyone in unsafe driving conditions getting to or from the concert. Ticket holders have been contacted via email with details on how to access the livestream. Virtual tickets are still available online to watch the performance and are $0–40. We look forward to connecting with everyone in the live chat!
The Artisan Quartet, all principal members of the Austin Symphony Orchestra, trace the roots of the string quartet. Music by Haydn ultimately leads into the iconic American voices of Samuel Barber and Carlos Simon. The program rounds out perfectly with Dvorák's American Quartet.
Seating pods of 1-4 people will be created based on each ticket order. Pods will be spaced six feet apart and masks will be required. Subject to availability, $12 Student Rush (with student ID) and $35 General Admission tickets may be purchased at the box office on the evening of the concert. Please note that the venue capacity is very limited. Premium seats are sold out for this event.
If you prefer to watch the livestream, please select a virtual ticket. Virtual tickets are available on a sliding scale and include on-demand access through July.
Program
String Quartet in C Major, Op. 74, No. 1 | Joseph Haydn (1732–1809)
Allegro
Andante
Minuet. Allegro
Finale. Vivace
An Elegy: A Cry from the Grave | Carlos Simon (b. 1986)
String Quartet in B Minor, Op. 11 | Samuel Barber (1910–1981)
String Quartet No. 12 in F Major, Op. 96, "American" | Antonín Dvorák (1841–1904)
Allegro ma non troppo
Lento
Molto vivace — Trio
Finale. Vivace ma non troppo
Artisan Quartet
Patrice Calixte, violin
Caleb Hans Polashek, violin
Bruce Williams, viola
Douglas Harvey, cello
The Artisan Quartet has performed many concerts around central Texas. The Artisan Quartet along with the Austin Symphony Orchestra created the Artisan Quartet Series starting in 2012; this exciting chamber music series features the greatest works in the string quartet and chamber music repertoire and has provided music lovers in Austin wonderful concerts in an intimate setting. More recently, the Artisan Quartet has become the Quartet in Residence for both the Mozart Festival Texas in San Antonio and the Texas Bach Festival.