Sponsored by Bill Schleuse & Virginia McDermott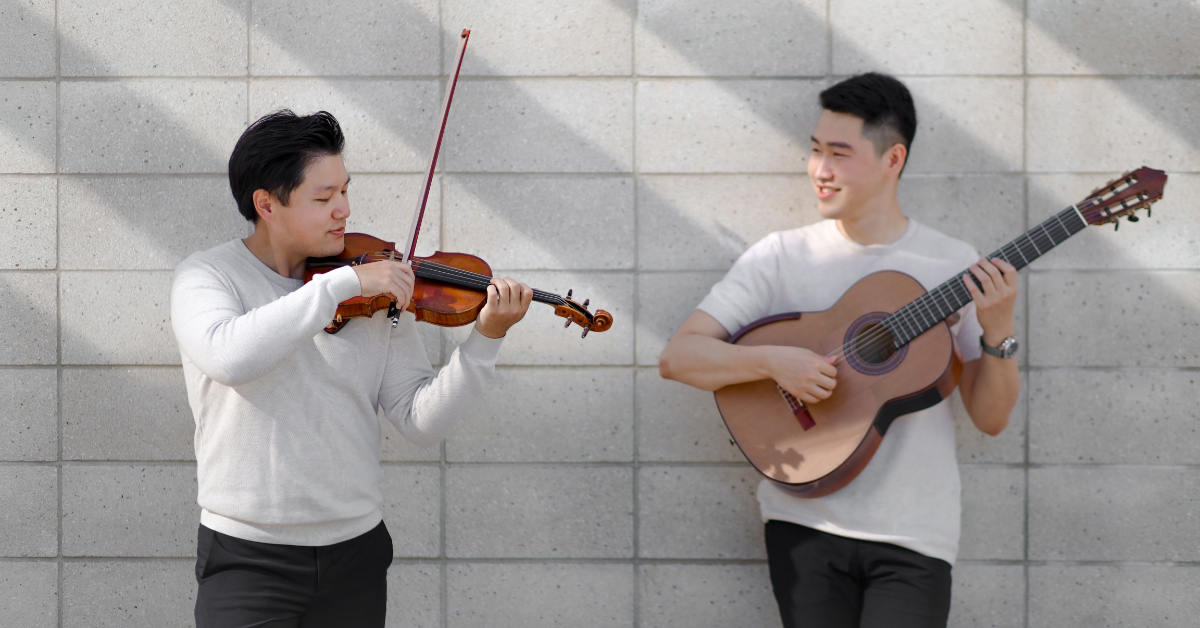 Austin Chamber Music Center in partnership with Austin Classical Guitar presents international prize-winning artists, guitarist Tengyue (TY) Zhang and violinist Strauss Shi. The duo is praised for their charming and dazzling on-stage chemistry through their own captivating arrangements.
Save up to 25% on tickets with flexible discount packages for 3+ concerts! Single tickets on sale April 1. Subject to availability, $12 Student Rush (with student ID), $40 General Admission, and $80 Premium tickets may be purchased at the box office on the evening of the concert. The box office will open at 7:00 PM that day.
Program
L'inverno (Winter) | Antonio Vivaldi (1678–1741) arr. David Galvez
Keyboard Sonata in D Minor, K. 141 | Domenico Scarlatti (1685–1757) arr. Zhang/Shi
João from Suite Latino-Americana | Horacio Fernandez (b. 1996)
Allemande and Courante from Partita No. 2 in D Minor, BWV 1004 | J.S. Bach (1685–1750)
Strauss Shi, solo violin
Una Limosna por el Amor de Dios (An Alm for the Love of God) | Agustín Barrios (1885–1944)
Tuhu from Hommage à Villa-Lobos | Roland Dyens (1955–2016)
TY Zhang, solo guitar
Danza ritual del fuego | Manuel de Falla (1876–1946) arr. David Galvez
Danza Española from La vida breve | Manuel de Falla arr. Fritz Kreisler
INTERMISSION
Histoire du Tango for Violin and Guitar | Astor Piazzolla (1921–1992)
Bordel 1900
Café 1930
Nightclub 1960
Concert d'aujourd'hui
水墨兰亭 (Ink Orchid Pavilion) | Li Zhihui (b. 1972) arr. Zhang/Shi
赛马 (Horse Racing) | Huang Hai-huai (1935–1967) arr. Zhang/Shi
Playing God | Polyphia arr. Zhang/Shi
FEATURING
Strauss Shi, erhu, dizi, violin | Tengyue (TY) Zhang, electric guitar, classical guitar
We are closely monitoring the pandemic and its impact on in-person events. With the health and safety of our community in mind, ACMC has updated our COVID-19 guidelines in accordance with City of Austin and CDC. View all recent updates to our programming by visiting our COVID-19 Response page.
TY & Strauss Duo
Awarded as the recent Winner and Audience Prize of the 2023 Concert Artists Guild (CAG) Competition in New York, the duo consists of three-time
international First Prize-winning violinist Strauss Shi, and the Grand Prize winner of Guitar Foundation of America International Concert Artist Competition (GFA-ICAC), TY Zhang. The duo is pushing boundaries and redefining the 21st century violin-guitar art form, while continuing to win the hearts of their audiences through their heartfelt sincerity, charm, and virtuosity.