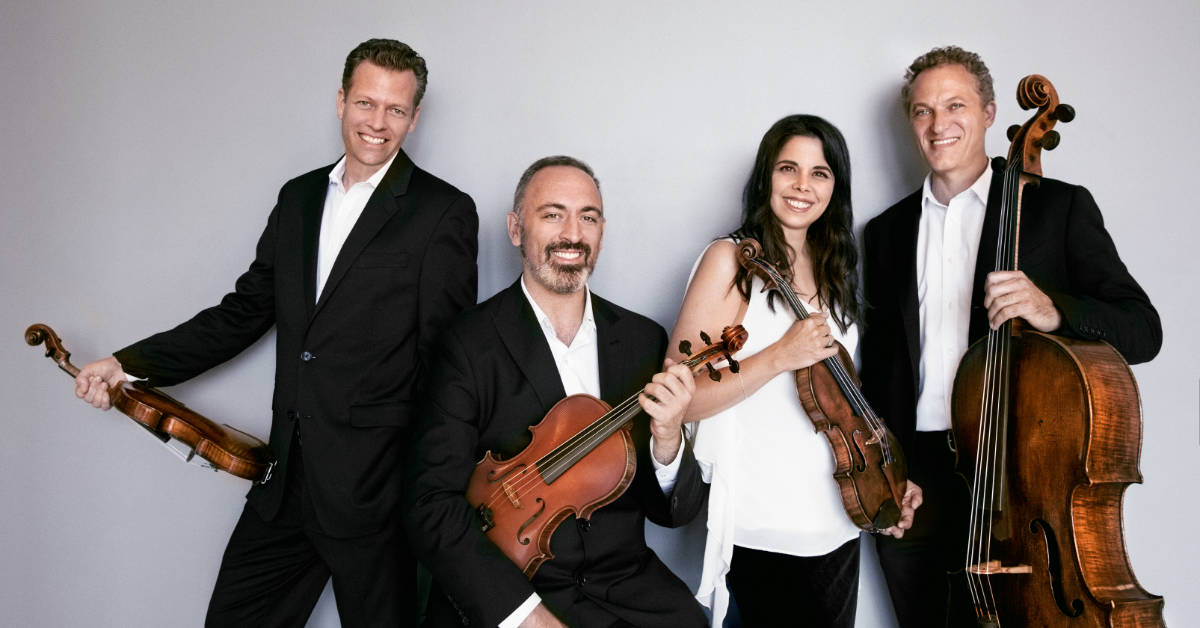 The multiple Grammy-winning Pacifica Quartet will join the Festival to perform works by Dvorak, Higdon, and Price.
Advance tickets on sale now. Save up to 30% on your tickets by getting a discount package of 3+ Festival concerts. Subject to availability, $12 Student Rush (with student ID), $30 General Admission, and $55 Premium tickets may be purchased at the box office on the day of the concert. The box office will open at 2:00 PM that day. If you prefer to watch online, please select a virtual ticket. Virtual tickets are available on a sliding scale and provide on-demand access starting the Monday after the concert until the end of July.
We are closely monitoring the pandemic and its impact on in-person events. With the health and safety of our community in mind, ACMC has updated our COVID-19 guidelines in accordance with City of Austin and CDC. View all recent updates to our programming by visiting our COVID-19 Response page.
Program
String Quartet No. 1 in G major | Florence Price (1887–1953)
Allegro
Andante moderato – Allegretto
Voices | Jennifer Higdon (b. 1962)
Blitz
Soft Enlacing
Grace
INTERMISSION
String Quartet No. 14 in A-flat Major, Op. 105 | Antonín Dvořák (1841–1904)
Adagio ma non troppo — Allegro appassionato
Molto vivace — Trio
Lento e molto cantabile
Finale. Allegro non tanto
PACIFICA QUARTET
Simin Ganatra & Austin Hartman, violins | Mark Holloway, viola | Brandon Vamos, cello
Pacifica Quartet
With a career spanning nearly three decades, the multiple Grammy Award-winning Pacifica Quartet has achieved international recognition as one of the finest chamber ensembles performing today. The Quartet is known for its virtuosity, exuberant performance style, and often-daring repertory choices. Having served as quartet-in-residence at Indiana University's Jacobs School of Music for the past decade, the Quartet also leads the Center for Advanced Quartet Studies at the Aspen Music Festival and School, and was previously the quartet-in-residence at the Metropolitan Museum of Art. In 2021, the Pacifica Quartet received a second Grammy Award for Contemporary Voices, an exploration of music by three Pulitzer Prize-winning composers: Shulamit Ran, Jennifer Higdon, and Ellen Taaffe Zwilich.
Formed in 1994, the Pacifica Quartet quickly won chamber music's top competitions, including the 1998 Naumburg Chamber Music Award. In 2002 the ensemble was honored with Chamber Music America's Cleveland Quartet Award and the appointment to Lincoln Center's The Bowers Program, and in 2006 was awarded a prestigious Avery Fisher Career Grant. With its powerful energy and captivating, cohesive sound, the Pacifica has established itself as the embodiment of the senior American quartet sound.