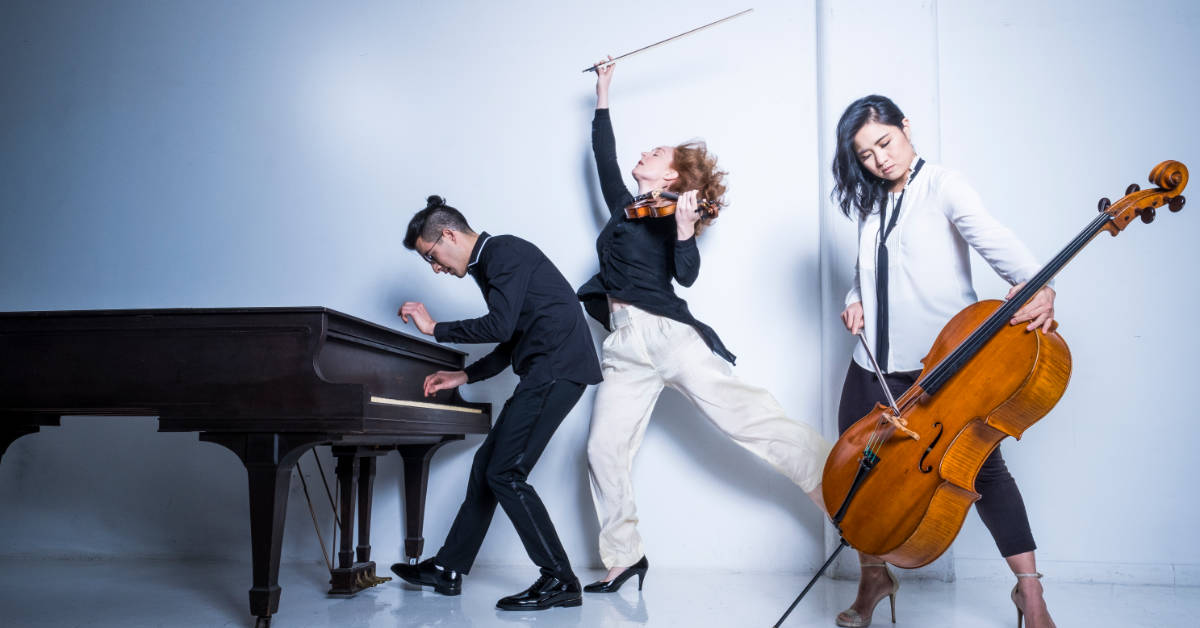 Merz Trio, winners of the Naumburg, Concert Artists Guild, Fischoff, and Chesapeake Competitions, present a program of 19th and early 20th-century masterworks teeming with boundary-breaking energy. Beethoven's middle period masterwork, Op. 70 No. 2, is paired here with four later Viennese songs that draw attention to both its lyrical and virtuosic elements, while Brahms' glorious B Major Trio showcases him as both a pioneering romantic and as a consummate master at the height of his powers. Unable to leave our listeners in the midst of Brahms' stormy B minor finale, we end the program with Robert Schumann's moving love song "Widmung," written as a wedding gift for his wife, Clara.
Advance tickets on sale now. Save up to 30% on your tickets by getting a discount package of 3+ Festival concerts. Subject to availability, $12 Student Rush (with student ID), $30 General Admission, and $55 Premium tickets may be purchased at the box office on the evening of the concert. The box office will open at 6:30 PM that day. If you prefer to watch online, please select a virtual ticket. Virtual tickets are available on a sliding scale and provide on-demand access starting the Monday after the concert until the end of July.
We are closely monitoring the pandemic and its impact on in-person events. With the health and safety of our community in mind, ACMC has updated our COVID-19 guidelines in accordance with City of Austin and CDC. View all recent updates to our programming by visiting our COVID-19 Response page.
Program
Die Stille Stadt (from Five Songs, No. 1) | Alma Mahler (1879–1964) arr. Merz Trio
Traumgekrönt (from Seven Early Songs, No. 4) | Alban Berg (1885–1935) arr. Merz Trio
Laue Sommernacht (from Five Songs, No. 3) | Alma Mahler arr. Merz Trio
Sommertage (from Seven Early Songs, No. 7) | Alban Berg arr. Merz Trio
Piano Trio No. 6 in E-flat Major, Op. 70, No. 2 | Ludwig van Beethoven (1770–1827)
Poco sostenuto—Allegro ma non troppo
Allegretto
Allegretto ma non troppo
Finale. Allegro
INTERMISSION
Piano Trio No. 1 in B Major, Op. 8 (rev. 1889) | Johannes Brahms (1833–1897)
Allegro con brio—Tranquillo—In tempo ma sempre sostenuto
Scherzo. Allegro molto—Meno allegro—Tempo primo
Adagio
Finale. Allegro
Widmung (from Myrthen, Op. 25) | Robert Schumann (1810–1856) arr. Merz Trio
MERZ TRIO
Brigid Coleridge, violin | Julia Yang, cello | Fei-Fei Dong, piano
Merz Trio
Hailed as "artists in the deepest sense of the word" (CutCommon), Merz Trio, winners of the Naumburg, Concert Artists Guild, Fischoff, and Chesapeake Competitions, have been lauded for their "stunning virtuosity… fresh and surprising interpretations" (Reading Eagle), and "perfection of intonation and ensemble" (Hudson Review). Merz Trio are committed to reshaping the narrative of classical music through vibrantly dynamic programming and wide-ranging interdisciplinary collaboration. Their narrative programming style juxtaposes classical standards, new music, and their own arrangements of familiar and forgotten works, fluidly interwoven and guided with speaking from the Trio's members.
The Trio are known for their immersive integrations of music and text in performance, from their recital-theater piece built around Shakespeare's Macbeth ("Those Secret Eyes"), to their album interweaving Ravel's Trio with short pieces, poems, and diaries of the era ("Ink"). In their arranging, the Trio are committed to uplifting overlooked voices from history, ranging from Hildegard von Bingen to Lili Boulanger, from Joséphine Baker to Irish folk melodies.