2022 Recipient: Pedro Salas, violin
Pedro Salas, age 16, is a junior at Akins High School and studies privately with Sean Riley. He is actively involved at Akins within the orchestra and ACMC's In-School Coaching Program. In July 2022, Pedro participated in the Workshop's Young Artist Division where he was awarded the Felicity Coltman Scholarship Award. As a recipient, Pedro received a full scholarship to the Young Artist Academy for the 2022/2023 year.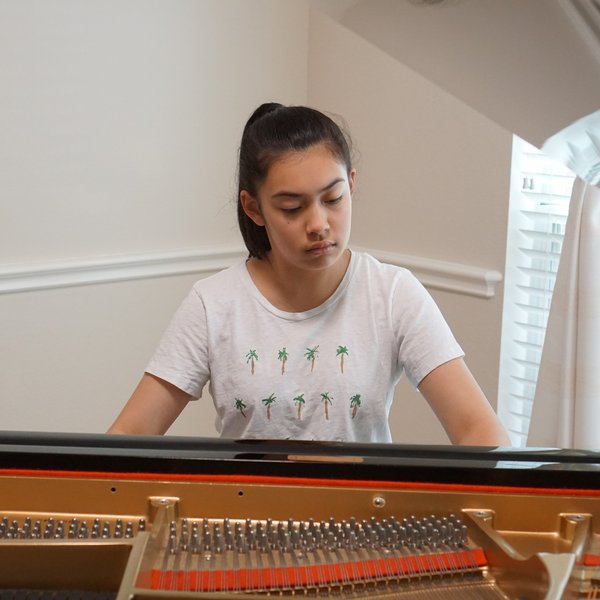 2019 Recipient: Anastasia Loiko, piano
Anastasia Loiko, age 13, has been playing piano since she was six. She is a student at Austin Montessori School, and currently studying piano with Dr. Eugenio Zapata. Aside from playing piano, she enjoys singing, composing short melodies, crafting, and solving math problems. She likes listening to classical music and songs from musicals, often trying to learn them by ear. Anastasia has been awarded a Superior Plus four times for her piano playing at ADMTA festivals and received an honorable mention from the Texas State University Young Artists Piano Competition of 2019. Anastasia has spent the last six summers as a student pianist at the ACMC Workshop!
Past Recipients
2018 – Melva Loock, cello & piano
2017 – Casey Boyer, viola & Dylan Monahan, cello
2016 – Noah Simon, piano
2015 – Sophie Ayer, violin & Francesca Ramirez, clarinet
2014 – Saskia Gregg, violin
2013 – Rachel Rivero, cello
2012 – Christopher Henselman, piano & Sage Stoakley, violin
2011 – Zerek Dodson, oboe & piano
2010 – Sydney Barber, piano
2009 – Hannah Bangs, clarinet
2008 – Olivia Erwin, oboe
2007 – Christa DeFries, violin
2006 – Ria Hodgson, violin