Collegiate Division 1st Place: invoke
University of Texas at Austin Butler School of Music
Described by one pretty important radio guy as "not classical…but not not classical", invoke continues to successfully dodge every attempt at genre classification. The multi-instrumental band's style encompasses musical traditions from across America, woven together to create truly unique contemporary repertoire. Equally at home in a collaborative setting, invoke has performed with musicians from widely varying genres, from the Enso Quartet to chamber rock powerhouse San Fermin. invoke's 2015 debut release "Souls in the Mud" features original works composed by and for the group.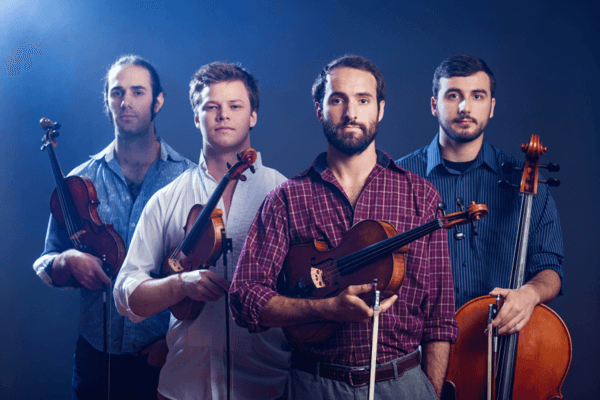 Ensemble Members:
Nick Montopoli, violin/banjo
Zach Matteson, violin
Karl Mitze, viola/mandolin
Geoff Mayin, cello
Repertoire:                                                 
Nick Montopoli: Dogs
Alberto Ginastera: String Quartet No. 1, Op. 20 – I. Allegro violento ed agitato
Collegiate Division 2nd Place: Ajax Quartet
University of Colorado Boulder
Founded in 2016 at the University of Colorado, the Ajax Quartet is an emerging string quartet comprised of violinists Tom Yaron and Renee Hemsing Patten, violist Mario Rivera, and cellist Eric Haugen. In the fall of 2016, Ajax was selected for the graduate string quartet residency at the University of Colorado by the Takacs Quartet, who gives them weekly coaching sessions and guidance. Ajax also shares a relationship with the Aspen Music Festival and School, where they serve as Musical Connections Resident Artists.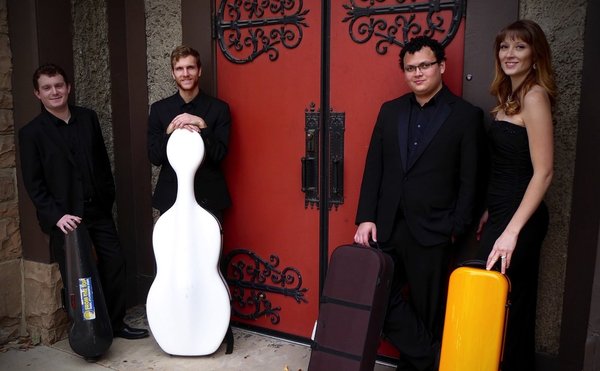 Ensemble Members:
Tom Yaron, violin
Renee Hemsing Patten, violin
Mario Rivera, viola
Eric Haugen, cello
Repertoire:
W.A. Mozart: String Quartet No. 21 in D Major, K. 575 – I. Allegretto
Bela Bartok: String Quartet No. 2 – I. Moderato
Collegiate Division 3rd Place: Crosstown Winds
University of Memphis Scheidt School of Music
Founded in 2017, Crosstown Winds is based in Memphis, Tennessee. All members serve as graduate assistants at the University of Memphis Scheidt School of Music. Crosstown Winds frequently performs throughout the greater Memphis area and strives to provide outreach to the local community.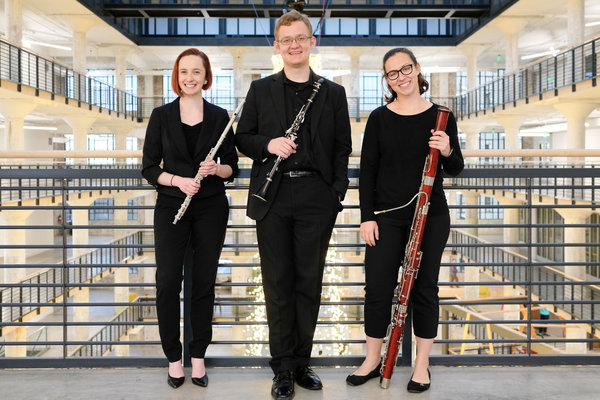 Ensemble Members:
Kelly Herrmann, flute
Garrett Nichols, clarinet
Leah Cripps, bassoon
Repertoire:
Heitor Villa-Lobos: Trio for Oboe, Clarinet and Bassoon – I. Animé
Valerie Coleman: Rubispheres – III.
Junior Division 1st Place: Quid Nunc Saxophone Quartet
Ronald Reagan High School – San Antonio, Texas
The Quid Nunc Saxophone Quartet formed in the winter of 2013 and has been a leading advocate and competitor in the chamber music community ever since. QNSQ has won prizes at the Coltman Competition (2nd prize 2015, 1st prize tie 2017), the Houston Underground Saxophone Quartet Competition (3rd prize 2014, 1st prize 2016), Texas Public Radio's "Sounds Like KPAC" Competition (1st prize 2015 and 2016), and was names a quarterfinalist in the 2016 Fischoff National Chamber Music Competition. In 2015 QNSQ performed as a feature group at the 69th annual Midwest Band and Orchestra Clinic, premiering two new works for saxophone quartet.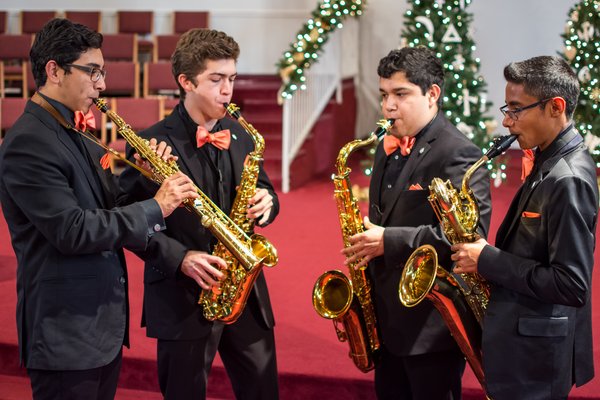 Ensemble Members:
Ryan Montemayor, soprano saxophone
Jacob Brockett, alto saxophone
Matt Escobedo, tenor saxophone
James Pachikara, baritone saxophone
Repertoire:
Thierry Escaich: Tango Virtuoso
Guillermo Lago: Ciudades: Addis Ababa (Ethiopia)
Junior Division 2nd Place: Quantum Quartet
Hebron High School – Carrollton, Texas
Formed in the summer of 2016 in Carrollton, Texas, the Quantum Quartet consists of Bruce Moe, Ekdev Rajkitkul, Austin Dreyer, and Peyton Joffre. Members of the group have received many honors, including Texas All-State Band placement, selection to participate in the 2016 North American Saxophone Alliance High School Saxophone Ensemble, various top finishes in the Houston Underground Saxophone Competition (Junior Division and High School Division), and more. Quantum Quartet's are members of the award winning Hebron High School Band.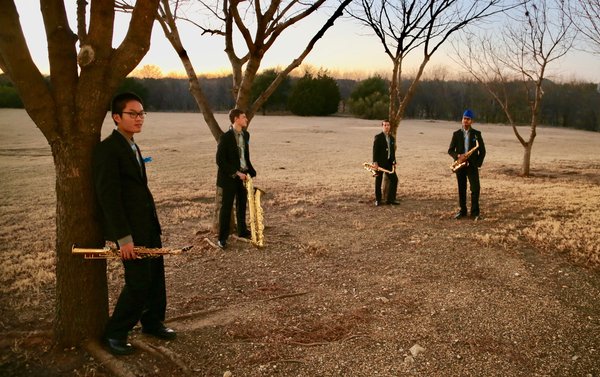 Ensemble Members:
Bruce Moe, soprano saxophone
Ekdev Rajkitkul, alto saxophone
Austin Dreyer, tenor saxophone
Peyton Joffre, baritone saxophone
Repertoire:
Joel Love: In Memoriam – II. Adieu
David Maslanka: Songs for the Coming Day – VIII. The soul is here for its own joy
Junior Division 3rd Place: DAJJ Quartet
Chamber Music Connection – Worthington, Ohio
The DAJJ Quartet formed in Fall 2015 at the Chamber Music Connection (CMC) based in Worthington, Ohio. DAJJ consists of Daniel Tai (15) and Anna Linder (14), violins, Jackson Tomsic (17), cello, and Julian Tugaoen (15), viola. The name DAJJ arises by combining the first letters of each member's first name. DAJJ was named the 2017 Grand Prize winner of the Discover Competition, won Bronze medal at the 2017 Saint Paul String Quartet Competition, received Honorable Mention in 2017 and Second Prize in the 2018 Ohio String Teachers Association Competition. The quartet was also a finalist at the 2017 Coltman Competition. They have worked with many guest artists at CMC such as Jinjoo Cho, Neave Trio, Dmitry Kouzov, Calidore, Dover, Formosa, Cavani, KASA, Hausmann, and Doric String Quartets.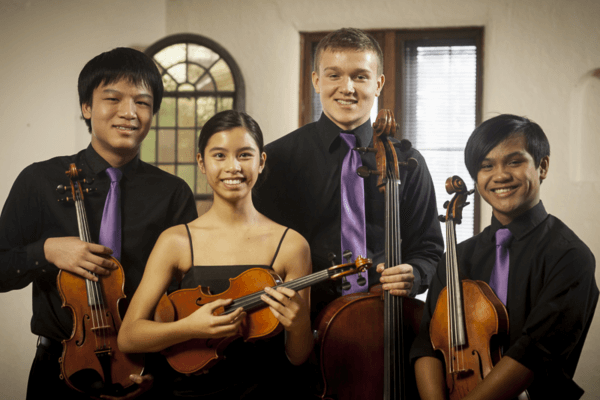 Ensemble Members:
Daniel Tai, violin
Anna Linder, violin
Julian Tugaoen, viola
Jackson Tomsic, cello
Repertoire:
Franz Joseph Haydn: String Quartet in D Minor, Op. 76, No. 2 – I. Allegro
Dmitri Shostakovich: String Quartet No. 10 in A-flat Major, Op. 118 – II. Allegretto furioso
2018 Competition Judges
Carolyn Watson, conductor
Ricky Rowley, piano
Sandy Yamamoto, violin
Jessica Valls, double bass
Harvey Pittel, saxophone
Rebecca Powell Garfield, flute