Collegiate Division 1st Place: KASA Quartet
KASA is dedicated to the art, performance, and education of chamber music. KASA performs an array of musical styles ranging from classical to gypsy jazz and various genres in between. The group first realized their hybrid of interests collectively during summers of performing together at the Caroga Lake Music Festival, a yearly music festival in Upstate New York featuring some of the world's leading young professional musicians. Stephanie and Kyle are siblings from Columbus, Ohio and were connected with Aaron Schwartz through their undergraduate studies at the Cleveland Institute of Music (CIM). Andy Liang met Kyle at the Madeline Island Music Camp in the summer of 2013 and quickly became close friends. KASA looks to convey the magic of chamber music and the diverse possibilities of the quartet genre through engaging, memorable and free-spirited performances and education events.
Ensemble Members:
Aaron Schwartz, violin – Carnegie Mellon University
Andy Liang, violin – University of Texas at Austin
Stephanie Price-Wong, viola – Eastman School of Music
Kyle Price, cello – University of Wisconsin-Madison
Repertoire:
Joaquín Turina: La oración del torero, Op. 34
Frank Churchill (arr. Quatuor Ébène – trans. Aaron Schwartz): Someday My Prince Will Come
Collegiate Division 2nd Place: Stentorian Quartet
University of Oklahoma – Norman, OK
The Stentorian Quartet represents the University of Oklahoma and is coached by Dr. Jonathan Nichol. Stentorian Quartet is comprised of members from all over the country: first year masters student Evan Harris (Soprano), first year masters student Spiro Nicolas (Alto), senior Jacob Hewitt (Tenor), and second year masters student Tyler Bokman (Baritone). Stentorian has given numerous public performances, been selected as winners of the State and Regional rounds of the 2016-2017 Music Teachers National Association Chamber Competition, and have been invited to compete in the National Round of the Music Teachers National Association Chamber Competition in Baltimore, Maryland in March 2017.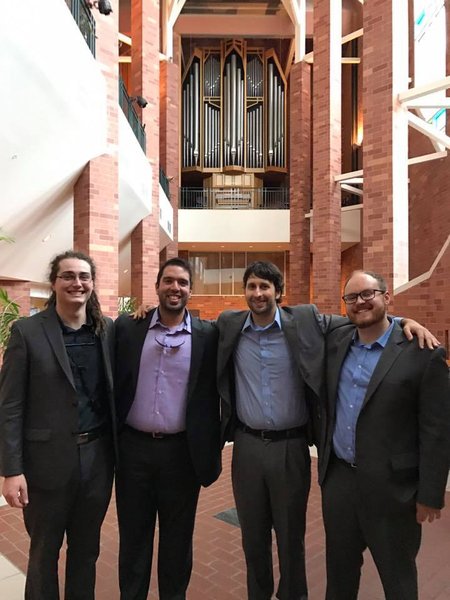 Ensemble Members:
Evan Harris, soprano saxophone
Spiro Nicolas, alto saxophone
Jacob Hewitt, tenor saxophone
Tyler Bokman, baritone saxophone
Repertoire:
Guillermo Lago: Cuidades – Addis Ababa (Ethiopia)
J.S. Bach (arr. Ito Yasuhide): Partita No. 2 in D Minor – V. Chaconne
Junior Division (tied) for 1st Place: Geneva String Quartet
Chamber Music Connection – Worthington, Ohio
The Geneva String Quartet was founded in the fall of 2016 at the Chamber Music Connection (CMC) in Worthington, OH. Coaches include Artistic Director, Deborah Price, Assistant Artistic Director, Stephanie Price-Wong, and a team of CMC's associated faculty. Through CMC, they have performed in masterclasses for the KASA, Formosa, and Telegraph String Quartets, as well as for Jeffrey Irvine and Richard Marshall. They previously won first place at the Ohio String Teachers' Association Biennial Chamber Music Competition in 2017. The group's name comes from Geneva, Switzerland. In the summer of 2017, the quartet will travel to Switzerland with CMC to participate in a Study & Performance Abroad Program.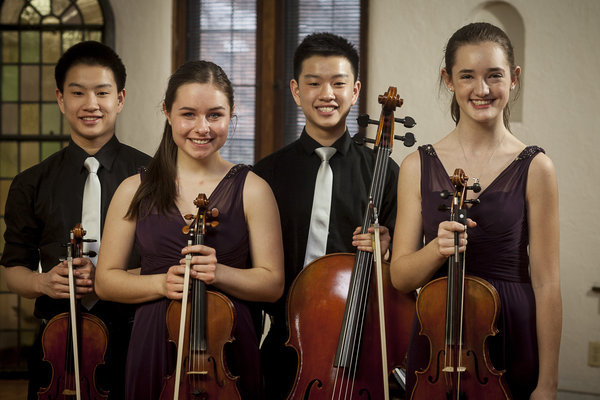 Ensemble Members:
Daniel Wu, violin
Kelly Gembara, violin
Elizabeth Macintosh, viola
Isaiah Wu, cello
Repertoire:
F.J. Haydn: String Quartet No. 3 in G Minor, Op. 74 "Rider" – IV. Finale. Allegro con brio
Alberto Ginastera: String Quartet No. 1, Op. 20 – I. Allegro violento ed agitato
Junior Division (tied) for 1st Place: Quid Nunc Saxophone Quartet
Ronald Reagan High School – San Antonio, TX
The Quid Nunc Saxophone Quartet formed in the winter of 2013 and has been a leading advocate and competitor in the chamber music community ever since. QNSQ has won prizes at the Coltman Chamber Music Competition (2nd prize 2015), the Houston Underground Saxophone Quartet Competition (3rd prize 2014, 1st prize 2016), Texas Public Radio's "Sounds Like KPAC" Competition (1st prize 2015 and 2016), and was named a quarterfinalist in the 2016 Fischoff National Chamber Music Competition. In 2015 QNSQ performed as a feature group at the 69th annual Midwest Band and Orchestra Clinic, premiering two new works for saxophone quartet.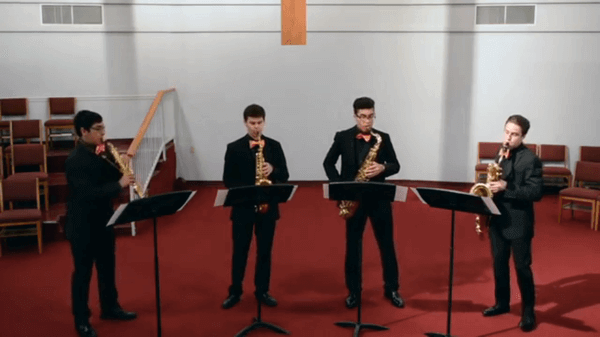 Ensemble Members:
Ryan Montemayor, soprano saxophone
Joshua Milford-Rosales, alto saxophone
Jamal Hawkins, tenor saxophone
Nick Koutras, baritone saxophone
Repertoire:
Alfred Desenclos: Quatuor Pour Saxophones – III. Poco Largo ma Risoluto
Marc Mellits: Black
2017 Competition Judges
Elizabeth Oakes, violin
Virginia Weckstrom, piano
Marianne Henry, violin
Sunil Gadgil, saxophone
Bradley Kent, conductor
Yevgeniy Sharlat, composition