Senior Division 1st Place: Auteur Saxophone Quartet
Michigan State University – East Lansing, Michigan
Ensemble Members:
Kristen Zelenak, soprano saxophone
Chris Ogden, alto saxophone
Jeff Kinsey, tenor saxphone
Ka Wai Ching, baritone saxophone
Repertoire:
John Mackey: Unquiet Spirits – I.
Maurice Ravel: String Quartet in F Major – I. Allegro moderato
The Auteur Saxophone Quartet is dedicated to making music that truly reflects the passion that its members have for artistry and innovation within their medium. No matter what repertoire is being performed, the goal of this ensemble is to make music that not only brings composers hard work and creativity to life, but to enhance compositions with its own blend of energy and imagination. Formed at Michigan State University in Fall 2014, Auteur Saxophone Quartet includes graduate saxophone students Kristin Zelenak, Chris Ogden, Jeff Kinsey, and Chemie Ching. The Auteur Saxophone Quartet receives coachings from Professor Joseph Lulloff.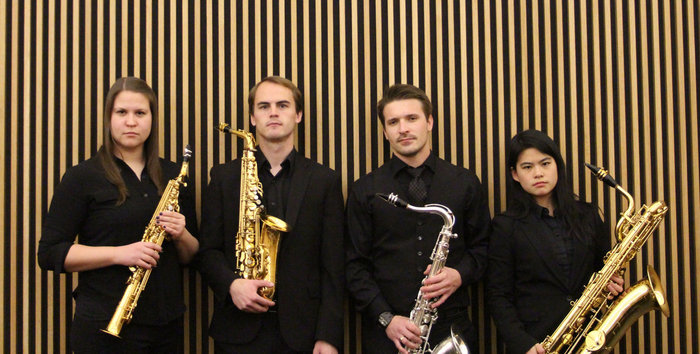 Senior Division 2nd Place: Cézanne Quartet
Southern Methodist University – Dallas, TX
Ensemble Members:
Mai Ke, violin
Eleanor Dunbar, violin
Steven Juarez, viola
Elizabeth White, cello
Repertoire:
Claude Debussy: String Quartet in G Minor, Op. 10 – I. Anime et tres decide
Dmitri Shostakovich: String Quartet No. 3 in F Major, Op. 73 – III. Allegro non troppo
Formed in 2014, the Cézanne Quartet enjoys an active performing career in the Dallas-Fort Worth area. Currently, the quartet studies at Southern Methodist University where they are coached by Matt Albert, Andres Diaz, Emanuel Borok, and Paul Phillips. The quartet has appeared in masterclasses with the Miró Quartet and the American String Quartet. Upcoming performances include appearances with the Bridge the Gap Chamber Series, the Meadows Virtuosi Players, and the Texas Christian University CelloFest. The quartet is named after the French impressionist painter Paul Cézanne because of the first work that the group studied together – the French impressionist composer Claude Debussy's String Quartet in G minor.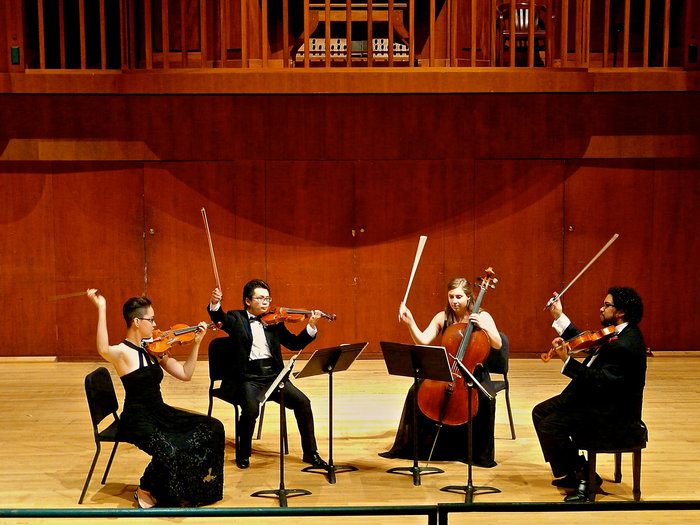 Junior Division 1st Place: Lake West Trio
Lake Travis High & Westwood High – Austin, TX
Ensemble Members:
Joonhee Cho, violin
John Lukas Facile, cello
Gary Liu, piano
Repertoire:
Felix Mendelssohn: Piano Trio No. 1 in D Minor, Op. 49 – I. Molto allegro agitato
Astor Piazzolla: Las Cuatro Estaciones Porteñas – IV. Invierno Porteño
Lake West Trio met at Luzerne Music Camp in the summer of August 2014, which is located in upstate New York, and because of their love for chamber music, continued to play together back in Austin. The trio is part of the CHAMPS program, sponsored by Salon Concerts, and is coached by Toby Blumenthal. Lake West Trio got its name from the fact that two of its members are from Lake Travis High School and the other is from Westwood High School. Cellist John (Lukas) Facile studies with Amy Levine-Tsang, pianist Gary Liu with Rick Rowley, and violinist Joonhee (John) Cho studies with Sandy Yamamoto. Since playing together, this trio has played for the community on several occasions.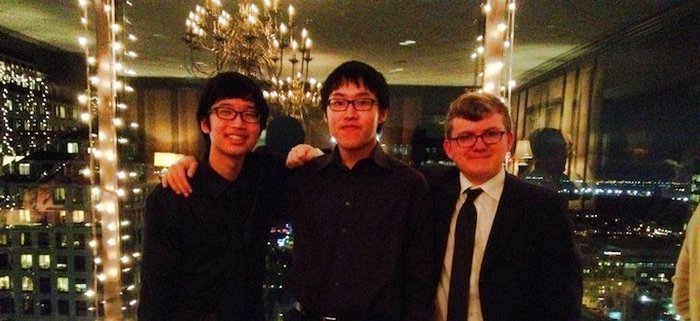 Junior Division 2nd Place: Quid Nunc Saxophone Quartet
Ronald Reagan High – San Antonio, TX
Ensemble Members:
Will Pyle, soprano saxophone
Paityn Tiller, alto saxophone
Bryant Anderson, tenor saxophone
Robin Brown, baritone saxophone
Repertoire:
David Maslanka: Mountain Roads – I. Overture
Philip Glass: Concerto for Saxophone Quartet – IV.
The Quid Nunc Saxophone Quartet is based out of Ronald Reagan High School in San Antonio, TX. The quartet began in the winter of 2014 and has since performed at various community events and benefits on behalf of the Reagan Band. The quartet has been honored at the Houston Underground Saxophone Quartet competition as well as at Texas UIL State Solo and Ensemble. The quartet's members have individually distinguished themselves by competing in UIL, TMEA, and MTNA competitions including participation in the 6A All-State band.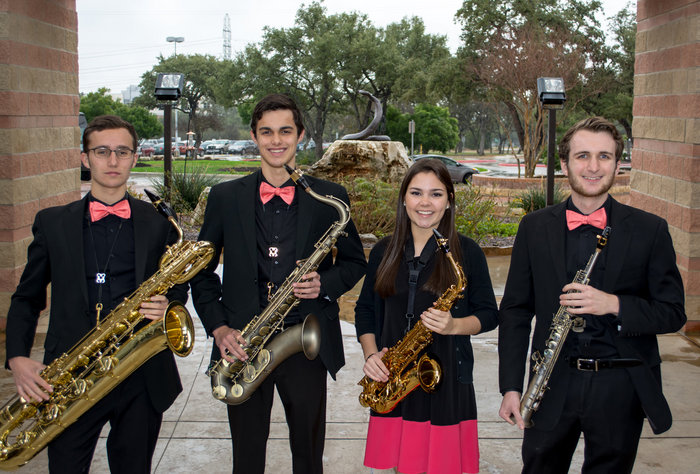 2015 Competition Judges
Sophia Gilmson, piano
Patrick Hughes, french horn
Jessica Mathaes, violin
Prudence McDaniel, cello
Daris Word Hale, bassoon