Senior Division String & Piano Category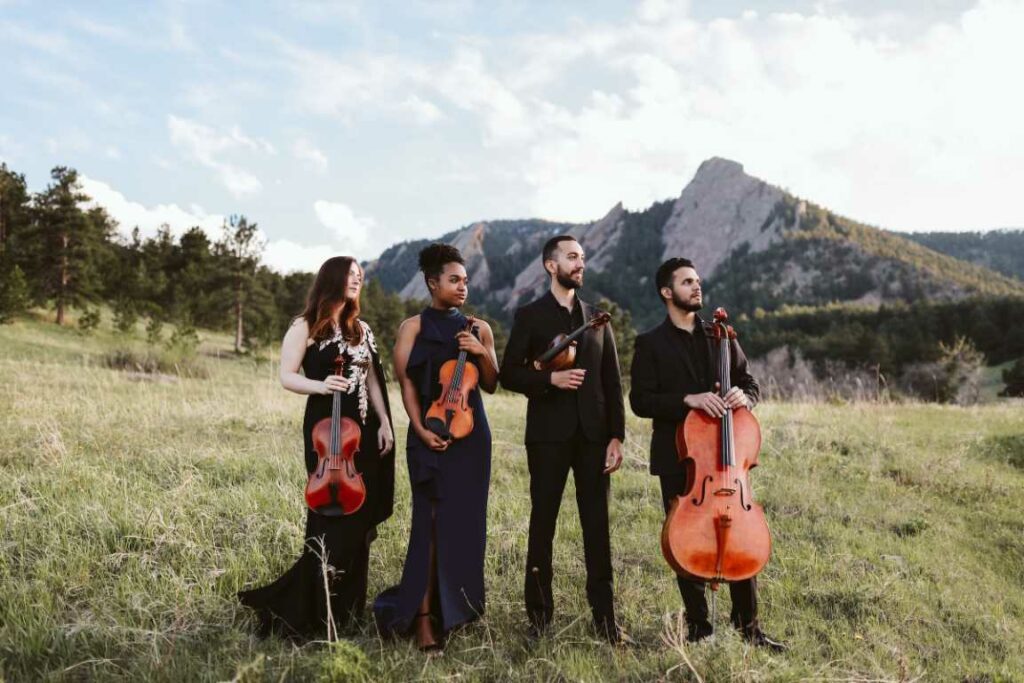 1st Place and Senior Division Grand Prize: Ivalas Quartet
Boulder, CO
Repertoire:
Ludwig van Beethoven: String Quartet No. 12 in E-flat Major, Op. 127; I. Maestoso–Allegro
Eleanor Alberga: String Quartet No. 2
The Ivalas Quartet is currently the Graduate Quartet in residence at The University of Colorado-Boulder where they study under the renowned Takács Quartet. Ivalas has performed on various concert series, including Detroit's WRCJ Classical Brunch concert series, Crested Butte Festival series, Great Lakes Center for the Arts concert series, and the CU Presents concert series, where the quartet performed alongside the Takács Quartet in 2020. As winners of the 2019 WDAV Young Chamber Musicians Competition in Davidson, North Carolina, the Ivalas Quartet will return to perform on the Davidson College concert series in 2022.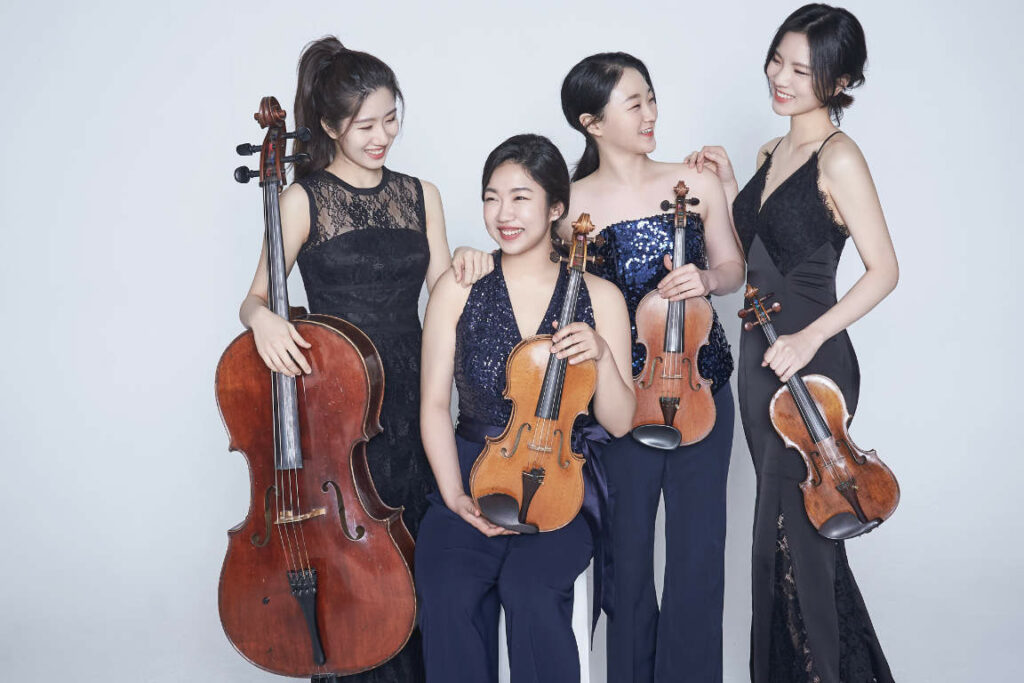 2nd Place: Risus Quartet
Austin, TX
Repertoire:
Franz Joseph Haydn: String Quartet in D Major, Op. 71. No. 2; I. Adagio–Allegro
Felix Mendelssohn: String Quartet No. 6 in F Minor, Op. 80; I. Allegro vivace assai
The Risus Quartet was founded in 2020, 'Risus' in Latin means 'laugh' and the main vision is to bring joy and laughter to their audiences. The Risus quartet loves to listen to each other playing and share leadership, confidence, and musical ideas. Its members – Haeni Lee and Jieun Yoo (violins), Mary Eunkyung Chang (viola), Bobae Lee (cello) are currently pursuing Artist Diplomas at the University of Texas at Austin, under the Miró Quartet, as the Young Professional Quartet in Residence. They won Grand Prize and Gold Medal Prize at the 2021 Fischoff National Chamber Music Competition.
Senior Division Mixed Instrumental Category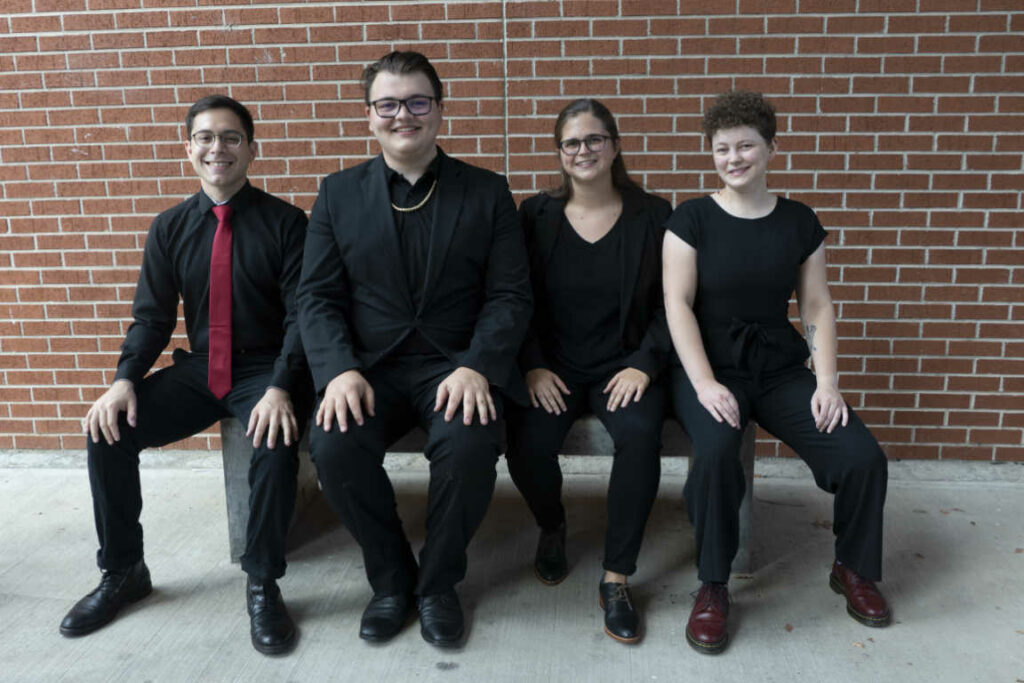 1st Place: Mixed Media
Athens, GA
Repertoire:
David Salleras Quintana: Soñando una nana
Viet Cuong: Prized Possessions; II. Beggar's Lace
Formed in August 2021, Mixed Media aims to challenge and delight audiences with new interpretations of contemporary saxophone quartet music. The quartet features Michael Chapa on soprano saxophone, Julien Berger on alto saxophone, Lindsey Welp on tenor saxophone, and Grace Gelpi on baritone saxophone, all of whom are students at the University of Georgia studying with Dr. Connie Frigo. Their love for new music and the saxophone quartet medium spurred their founding. Mixed Media regularly performs at the University of Georgia and in the Athens, GA area.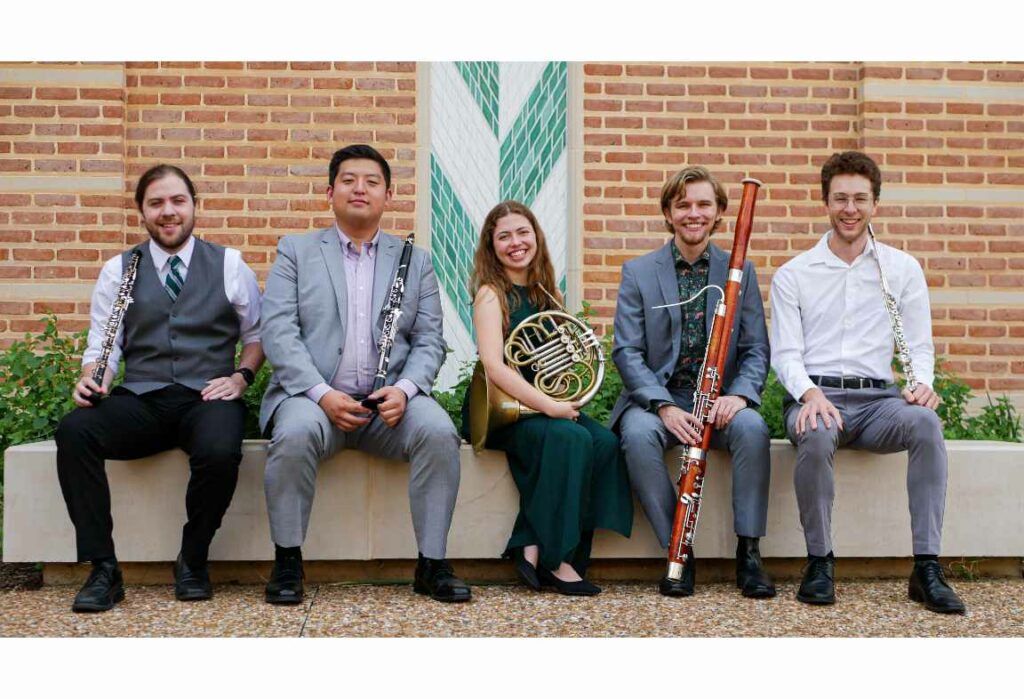 2nd Place: Kodan Quintet
Houston, TX
Repertoire:
Maurice Ravel, arr. Mason Jones: Le Tombeau de Couperin; IV. Rigaudon
Jon Deak: The Bremen Town Musicians
The Houston-based Kodan Quintet has moved audiences by performing wind quintet masterworks as well as championing new and contemporary music for the genre. Comprised of graduate students at the Shepherd School of Music at Rice University, Kodan Quintet were named Quarter-Finalists in the 2021 Fischoff Chamber Music Competition and were finalists in the 2021 Coltman Chamber Music Competition. Kodan Quintet is coached by Robert Atherholt, Rachel Buchman, Benjamin Kamins, and Leone Buyse.
Junior Division Mixed Instrumental Category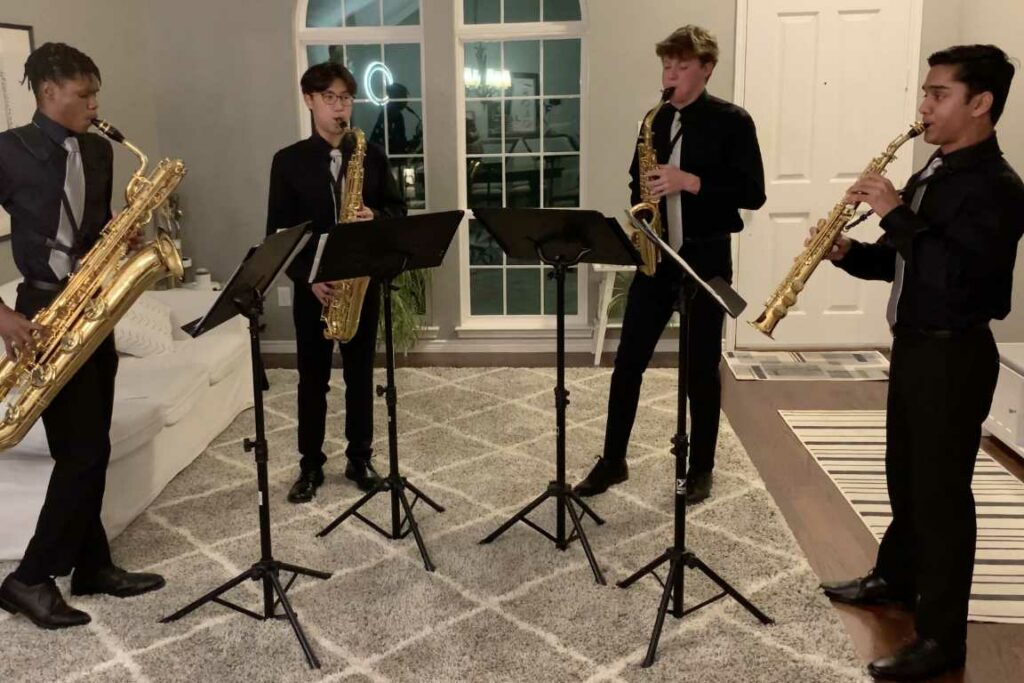 1st Place and Junior Division Grand Prize: Plexus Quartet
Carrollton, TX
Repertoire:
John Fitz Rogers: Prodigal Child
Faustin & Maurice Jeanjean: Quatuor pour saxophones; IV. Concert sur la place
Formed in the spring of 2020, the Plexus Quartet consists of Aayan Patel on soprano saxophone, Luke Sharp on alto saxophone, Daniel Kim on tenor saxophone, and Nigel Duplessis on baritone saxophone. Individual accomplishments include top placements in All-Region auditions, 1st Place in the Junior High category of the 2019 Houston Underground Saxophone Competition, and 6th Place in the 2021 Saxiana Solo Competition. Members of Plexus Quartet attend Hebron High School in Carrollton, Texas.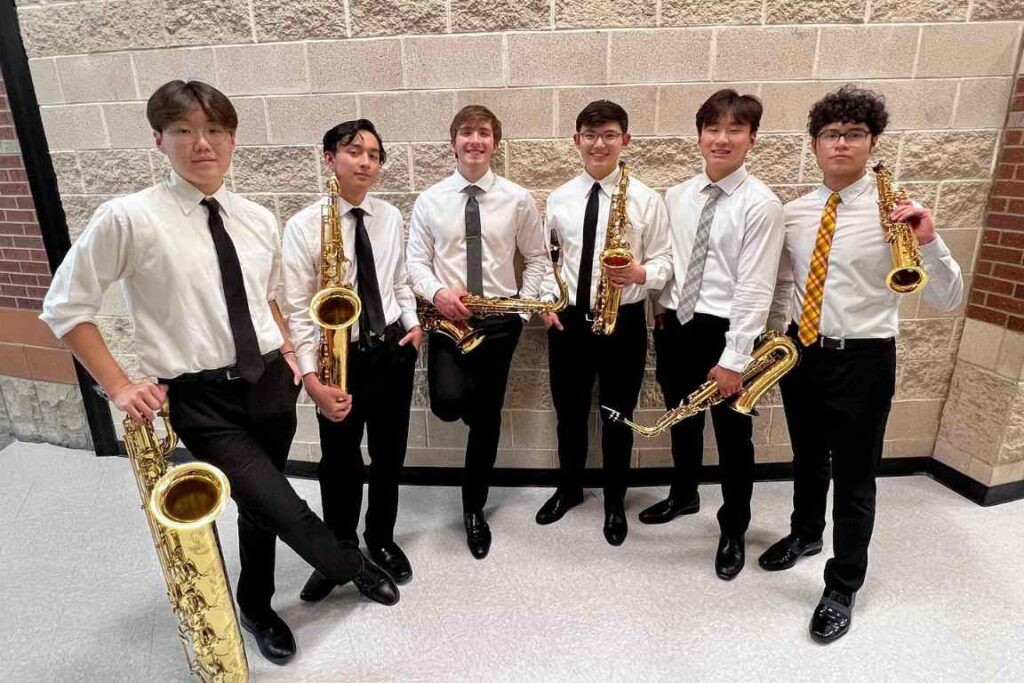 2nd Place: Centauri Sextet
Carrollton, TX
Repertoire:
Pyotr Ilyich Tchaikovsky, arr. Mark Smith: Souvenir de Florence, Op. 70; IV. Allegro vivace
Chris Evan Hass: Volcanic Ash
The Centauri Sextet came together in the summer of 2021. The name Centauri is recycled from an ensemble that GianCarlo and Andrew performed with in previous years. GianCarlo and Andrew are past Fishoff Gold Medalists with the Aurelian Quartet and have greatly enjoyed preparing difficult chamber music while holding their Quartet/Sextet rehearsals outside of school. Each member is a student of Mark Smith and goes to Hebron High School. The group is mostly self-rehearsed but holds occasional coaching sessions with Mr. Smith. Centauri Sextet plans to continue to perform for the next few years.
Junior Division String & Piano Category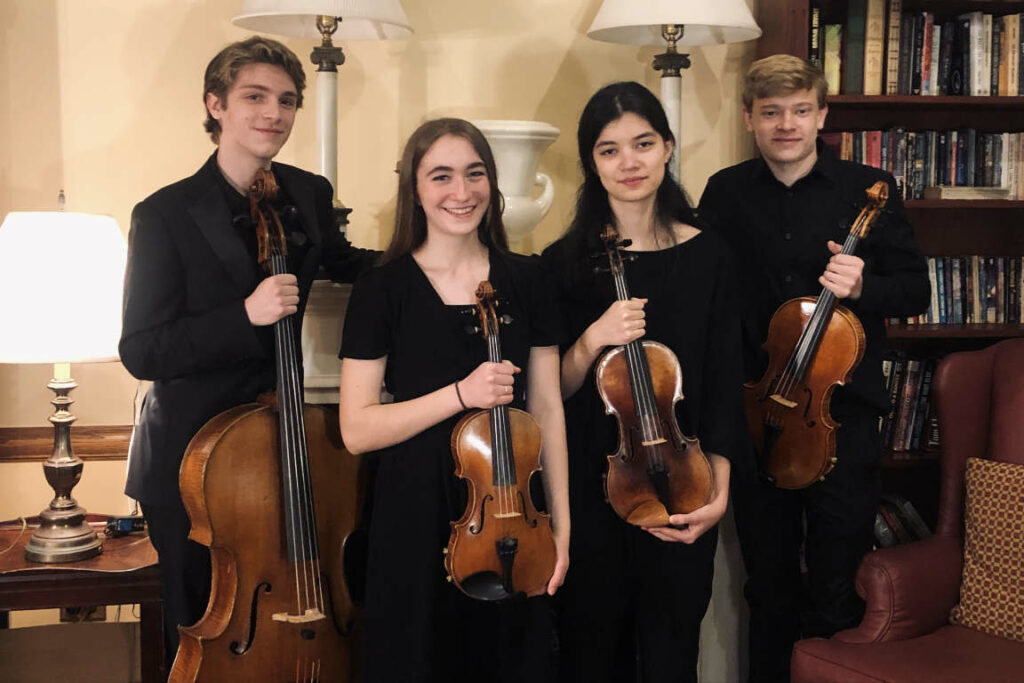 1st Place: Andromeda Quartet
New York, NY
Repertoire:
Ludwig van Beethoven: String Quartet No. 1 in F Major, Op. 18, No. 1; II. Adagio affetuoso ed appassionato
Alberto Ginastera: String Quartet No. 1, Op. 20; I. Allegro violento ed agitato
The Andromeda Quartet is a newly formed group from the New York Youth Symphony Chamber Program, coached by Tomoko Fujita. All four members have participated in NYYS for 3-5 years and organized their group at the Greenwood summer music program in Summer 2021. Violinist Natasha Wipfler-Kim studies with Nurit Pacht, Maggie Holyoke studies with Rebecca Fischer, Ari Freed studies at Juilliard Pre-College with Natasha Brofsky, and Andrew Jensen studies with Karen Ritscher at the Manhattan School of Music. The group has a strong love for chamber music, as small ensemble playing enables them to communicate and connect more meaningfully with audiences.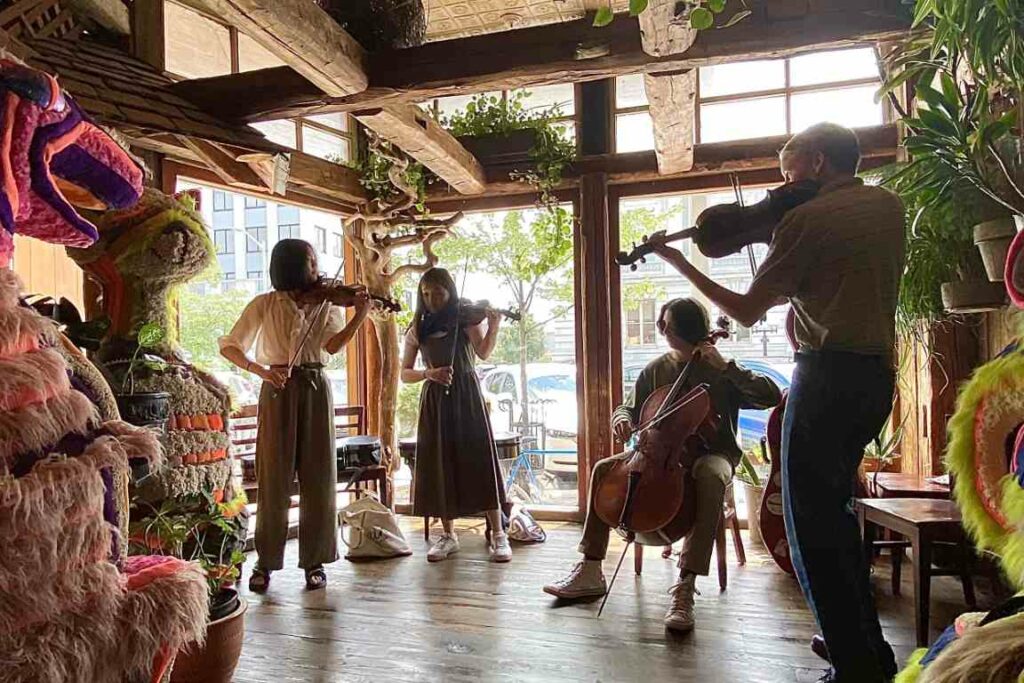 2nd Place: FaMa Quartet
Colchester, VT
Repertoire
Felix Mendelssohn: String Quartet No. 6 in F Minor, Op. 80; III. Adagio
Ludwig van Beethoven: String Quartet No. 11 in F Minor, Op. 95 "Serioso"; IV. Larghetto espressivo–Allegretto agitato–Allegro
We are the FaMa Quartet, formed at the 2021 Green Mountain Chamber Music Festival in Colchester, VT. Violinists Ella Eom and Julie Kim reside in the suburbs of New York City and study with Elizabeth Chang of Julliard's Precollege division. Violist Jasper Sewell lives in Chattanooga, TN, and is primarily a violinist, he studies with Vanderbilt University's Carolyn Huebl. Cellist Ari Webb currently resides in Cincinnati, OH, and takes lessons from Alan Rafferty. The four of us had a truly invigorating experience at Green Mountain, under the direction of Boston University's Bayla Keyes, and are very excited to continue as a group.
2022 Live Semi-Final and Final Round Judges
Gregory Allen, piano, The University of Texas at Austin
Norman Fischer, cello, Rice University
Michael Garasi, instrumental, University of Mary Hardin-Baylor
Marisa Ishikawa, violin, Carpe Diem String Quartet
Jeanne Kierman Fischer, piano, Rice University
Franz Krager, orchestral conductor, University of Houston
Todd Oxford, saxophone, Texas State University
Ebonee Thomas, flute, The Dallas Opera
Read Bios