2023 KMFA 89.5 Radio Broadcast
KMFA's "Listen Local" series features performances of the Junior and Senior Division winning ensembles. LISTEN HERE!
Senior Division String & Piano Category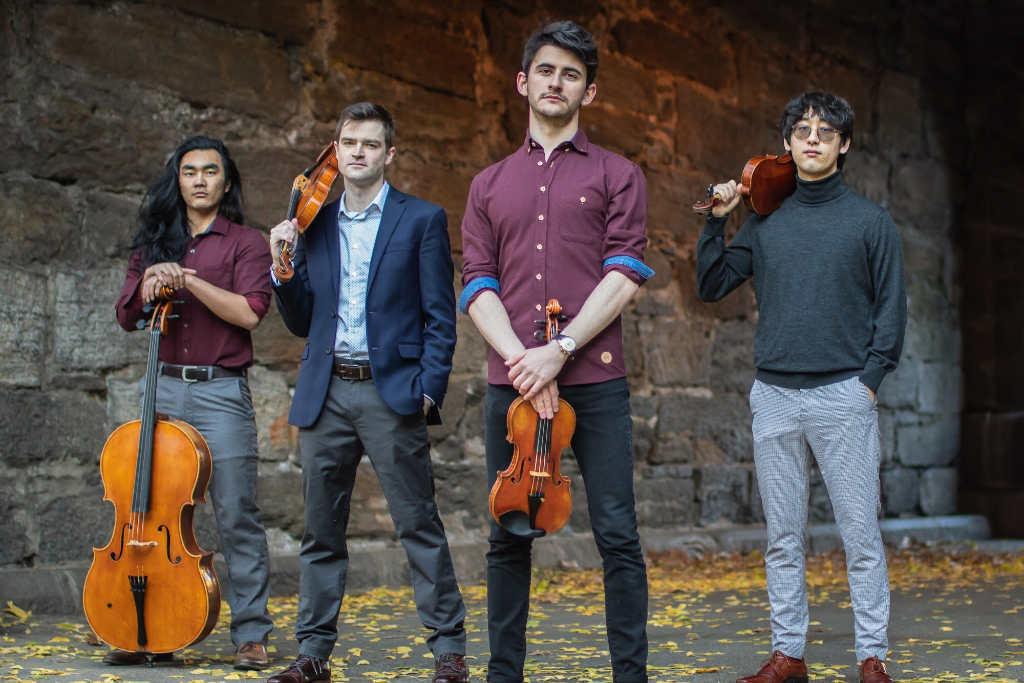 1st Place and Senior Division Grand Prize: Kodak Quartet
New York, New York
Franz Joseph Haydn (1732–1809) | String Quartet No. 63 in B-flat Major, Op. 76, No. 4
I. Allegro con spirito, II. Adagio
György Ligeti (1923–2006) | String Quartet No. 1 "Métamorphoses nocturnes"
I. Allegro grazioso, II. Vivace, capriccioso, III. Adagio, mesto, IV. Presto, V. Prestissimo, VI. Andante tranquillo
The Kodak Quartet is a dynamic string quartet, highly regarded for their work with contemporary composers and for presenting traditional works with an electrifying flavor. Kodak's members hail from the US, Canada, and France. Since forming at the Eastman School of Music, they have given concerts in the United States and Canada. The quartet is currently based in New York, NY and have worked with members of the American, Beethoven, Juilliard, Pacifica, Verona, and Ying Quartets. The Kodak Quartet was in residence at Montclair State and is currently the Cuker and Stern Graduate Resident String Quartet at the Mannes School of Music.
Edgar Donati & Martin Noh, violins | Daniel Spink, viola | Blake Kitayama, cello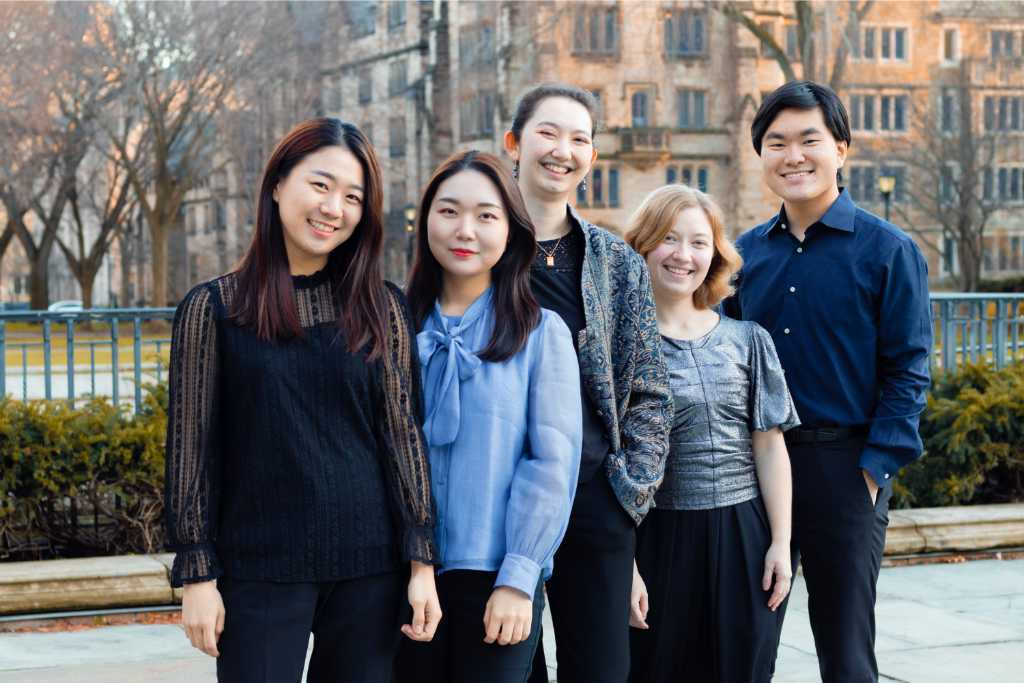 2nd Place: Uni Quintet
New Haven, Connecticut
Wolfgang Amadeus Mozart (1756–1791) | Clarinet Quintet in A Major, K. 581
I. Allegro
Johannes Brahms (1833–1897) | Clarinet Quintet in B Minor, Op. 115
I. Allegro
The Uni Quintet was established in September 2022 at the Yale School of Music. Initially formed with the intention of fulfilling their chamber credits, the group soon realized that their deep passion for chamber music and natural ensemble chemistry made it impossible not to reach higher with their ambitions. "Uni" comes from the group's desire to blend their individual sounds together into one unique ensemble. Individually, each member has achieved significant accomplishments, from winning international competitions to pioneering A.I.-based multimedia performance. Through the synthesis of their individual visions, the Uni Quintet hopes to create novel, exciting, and unique performances together.
Nikki Pet, clarinet | Chaewon Kim & Kenneth Naito, violins | Miranda Werner, viola| Ga Eun Lee, cello
Senior Division Mixed Instrumental Category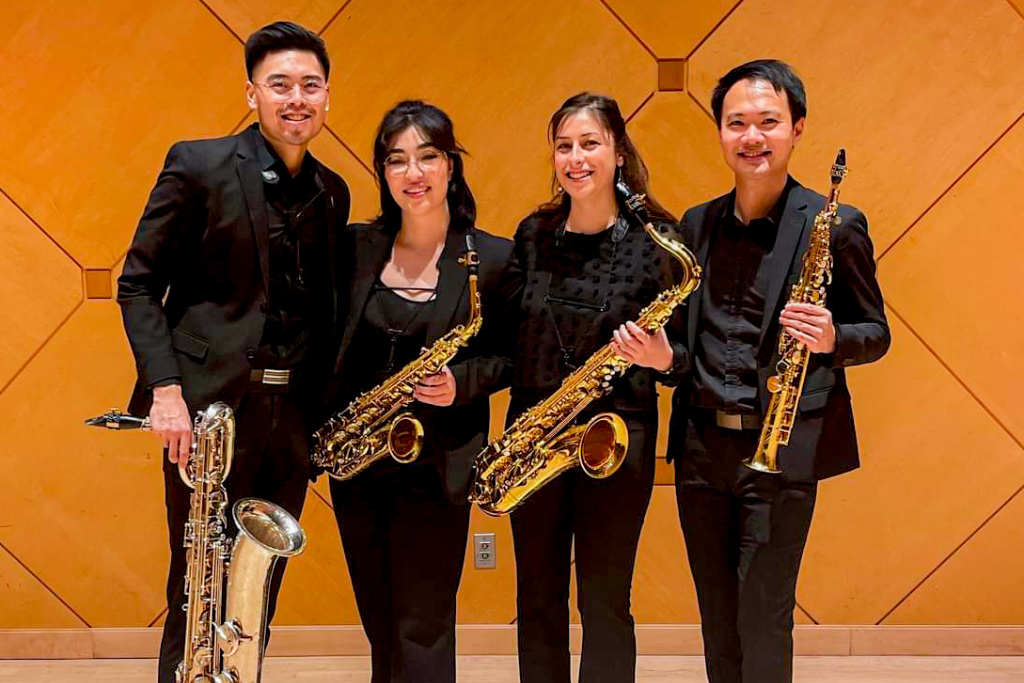 1st Place: Kodachrome
Tempe, Arizona
Fuminori Tanada (b. 1961) | Mysterious Morning II
I, II
Marcelo Zarvos (b. 1969), arr. Darius Mackie | Memory from Nepomuk's Dances
Kodachrome is comprised of four graduate students from Arizona State University. Individually and as an ensemble, they have premiered works by Hendel Almétus and Eduardo Orea at the PRISM Contemporary Music Festival, and have given performances at HIDA Day, Mirabella at ASU, and Woodwind Area Recital. Additionally, they have given masterclasses and spoken at Glendale Community College. One of the primary goals of Kodachrome is to promote contemporary underrepresented composers and provoke the general public's interest in concert music.
Calvin Wong, soprano sax | Jade Deatherage, alto sax | Siobhan Plouffe, tenor sax | Bonson Lee, baritone sax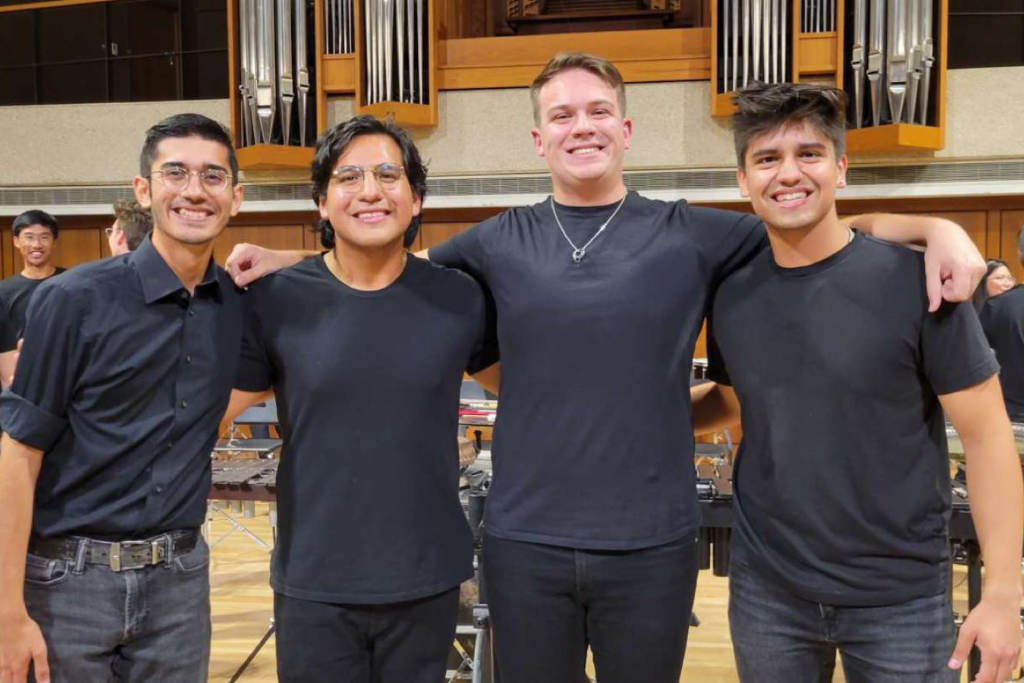 2nd Place: Blacktop Percussion
Austin, Texas
Viet Cuong (b. 1990) | Water, Wine, Brandy, Brine
Andy Akiho (b. 1979) | Seven Pillars
IV. Pillar III, VIII. Pillar V
Blacktop Percussion is an Austin-based Percussion Quartet formed in 2022 and puts an emphasis on learning and performing contemporary percussion repertoire. Composed of four undergraduate students at the Butler School of Music within the University of Texas at Austin, the quartet undergoes chamber study with professors Thomas Burritt and Ivan Trevino. They have performed with their college across the country at conventions, such as the Texas Music Educators Association and the Percussive Arts Society International Convention. Outside of their ensemble playing, members of the quartet have received accolades in their solo endeavors, most notably at the Great Plains International Marimba Competition and the Modern Snare Drum Competition.
Percussionists: Brandon Berlanga, Anthony Kain Cantu, Nicholas Martinez, and Michael Smith
Junior Division String & Piano Category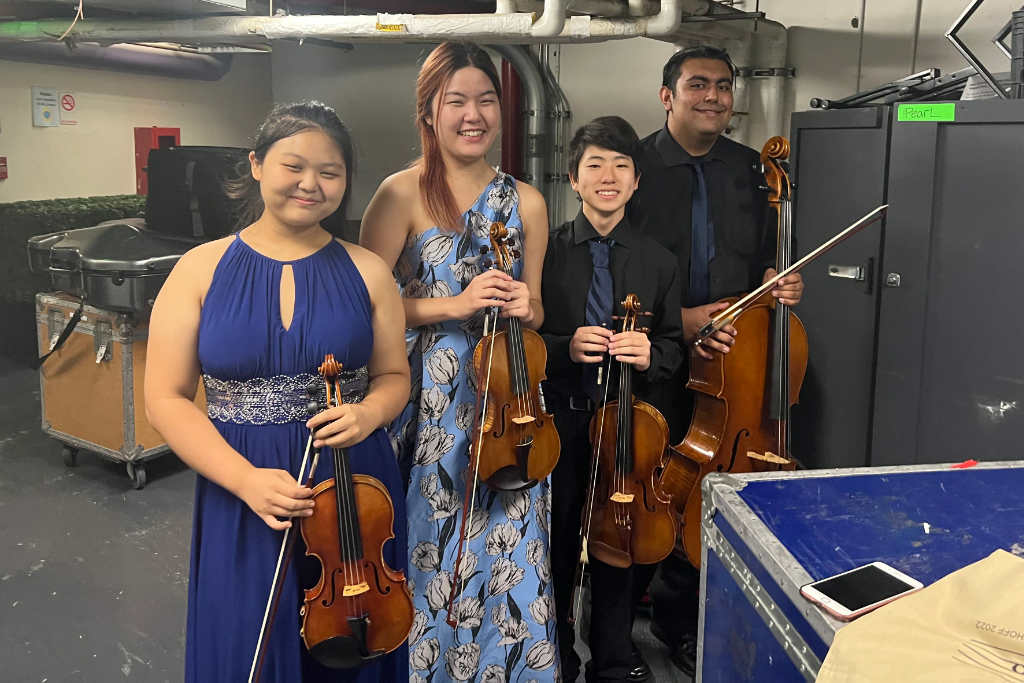 1st Place and Junior Division Grand Prize: Evie Quartet
Los Angeles, California
Franz Schubert  (1797–1828) | String Quartet No. 14 in D Minor, D. 810
I. Allegro
Dmitri Shostakovich (1906–1975) | String Quartet No. 3 in F Major, Op. 73
III. Allegro non troppo
Formed in the vibrant city of Los Angeles, the Evie Quartet is an honors ensemble at the Colburn School Community School of Performing Arts. Formed in the fall of 2022 and coached by Dr. Moni Simeonov, the members have already found an irreplaceable spirit of musicianship and comradery. The quartet believes chamber music is the ultimate form of communicating unspoken passion and sharing dynamic interpretations of music with audiences. Throughout their journey together, they look forward to tackling the broad scope of quartet repertoire.
Kailey Yun & Amy Lee, violins | Samuel Tatsuki, viola | Sam Guevara, cello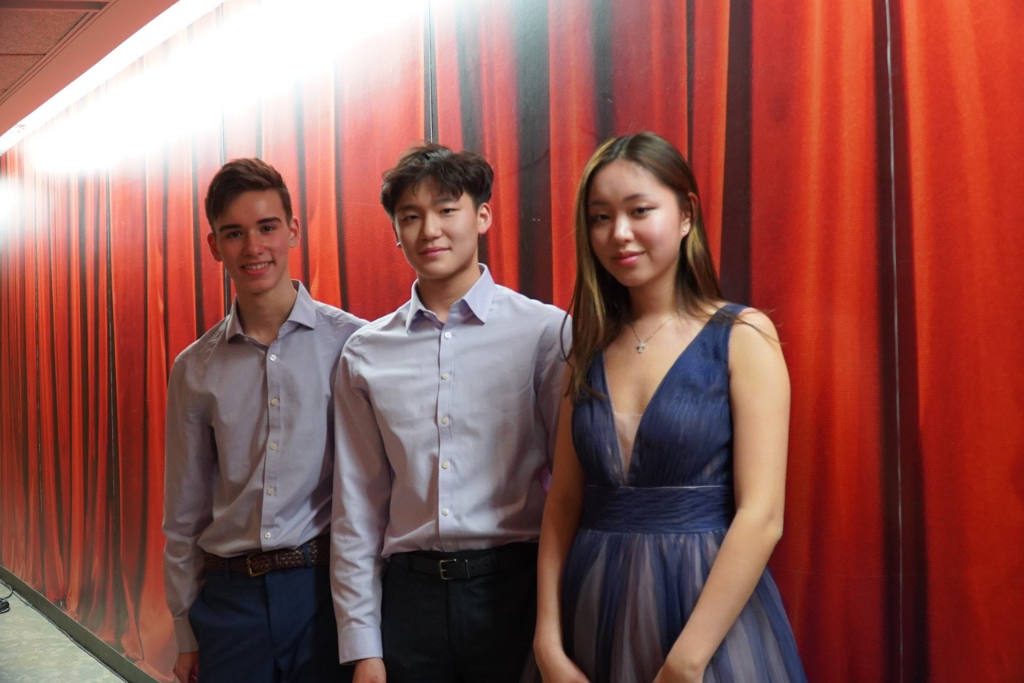 2nd Place: Aster Trio
New York, New York
Maurice Ravel (1875–1937) | Piano Trio in A Minor 
I. Modéré
Felix Mendelssohn (1809–1847) | Piano Trio No. 2 in C Minor, Op. 66
I. Allegro energico e con fuoco
Formed in the fall of 2022, the Aster Trio is coached by Sean Lee and Max Tan at the Juilliard Pre-College program. Violinist Nicholas Yoo is a student of Elizabeth Chang, cellist Noah Ferris studies with Astrid Schween, and pianist Alana Chiang studies under Hung-Kuan Chen. After first meeting in their ear training class, the three of them soon developed a profound love for performing together and for others.
Junior Division Mixed Instrumental Category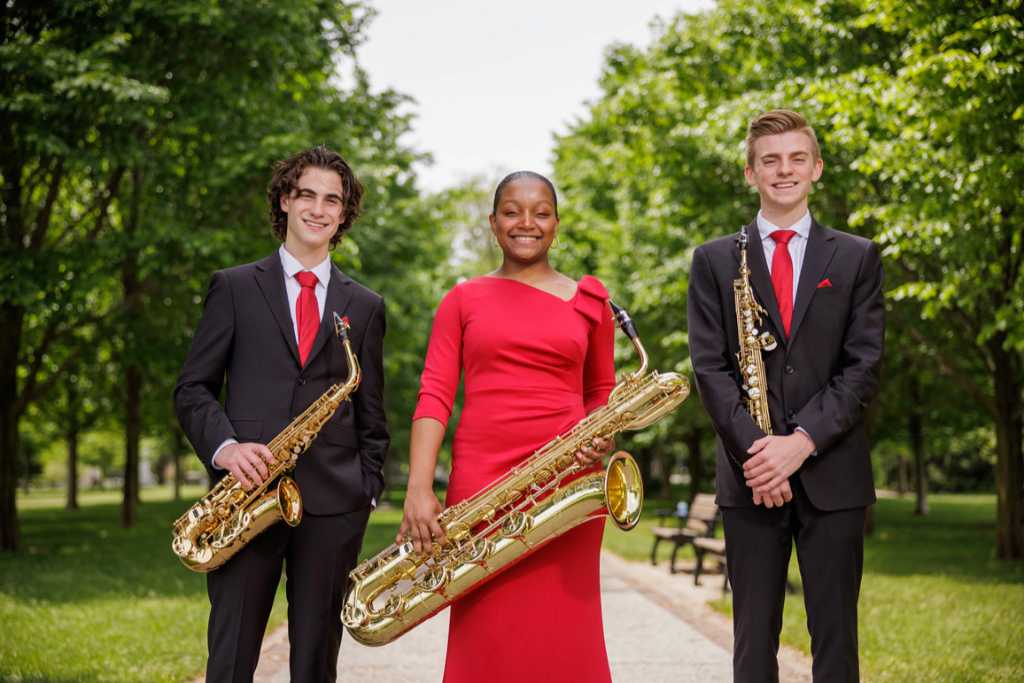 1st Place: Incendio Saxophone Trio
Chicago, Illinois
Carlos Micháns (b. 1950) | Broken Dances
I. Slow, II. Fast (molto giusto)
Robbie McCarthy (b. 1989), arr. Matt Fowler | Crankshaft
The Incendio Saxophone Trio is comprised of students from Victor J. Andrew High School and Carl Sandburg High School. They were silver medalists in the Fischoff National Chamber Music Competition, placed first in the 2022 Chicago Chamber Music Competition, won second prize at the 2022 Rembrandt Chamber Competition, and were finalists at the 9th Annual Coltman Competition. They were featured on 98.7, WFMT, Chicago's Classical Music Station, and were honored to have been chosen to perform at the 2022 Midwest Band and Orchestra Clinic.
Alex Procajlo, soprano sax | Zach Solomon, alto sax | Emma Phillips, baritone sax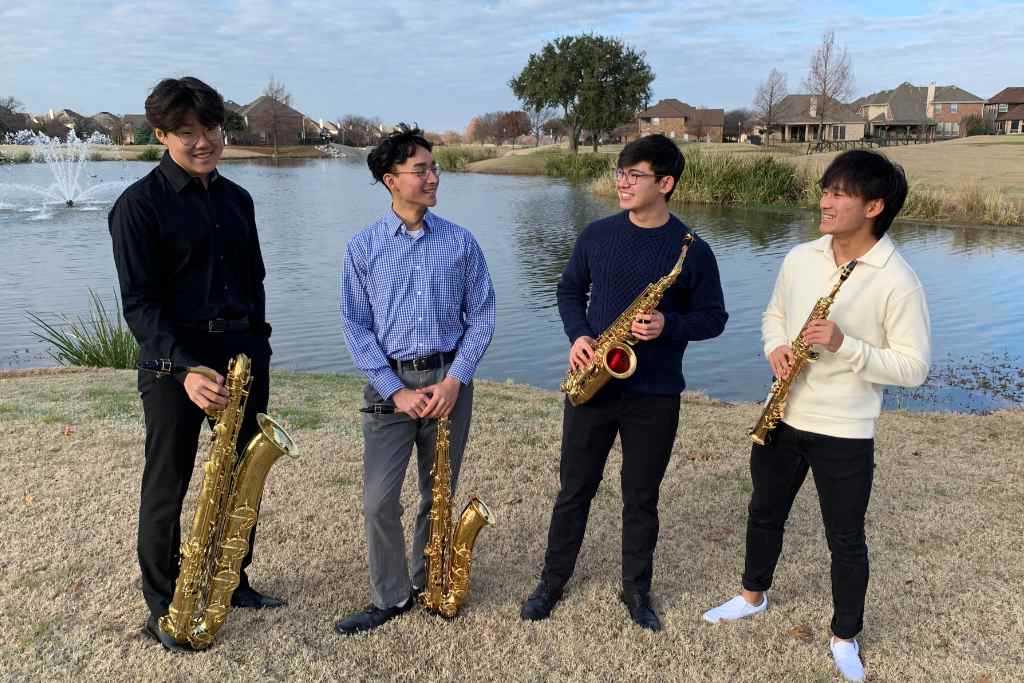 2nd Place: Centauri Quartet
Carrollton, Texas

David Salleras Quintana (b. 1980) | Soñando una nana
David Maslanka (1943–2017) | Recitation Book
V. Fanfare/Variations on "Durch Adams Fall" (Through Adam's Fall)
The Centauri Sextet came together in the summer of 2021. In the 2021-2022 season, they were a sextet and received 2nd place in the 9th Annual Coltman Competition. Now functioning as a quartet after two previous members graduated, they look forward to many upcoming performances. Each member is a student of Mark Smith and attends Hebron High School.
Min An, soprano sax| Ethan Choe, alto sax | Michael Brown, tenor sax | Jaden Kim, baritone sax
2023 Live Semi-final and Final Round Judges
Patrice Calixte, Associate Concertmaster, Austin Symphony Orchestra
Rami El-Farrah, Saxophone Faculty, University of Texas San Antonio
Stephen Page, Associate Professor of Saxophone, University of Texas at Austin
Troy Peters, Orchestra Director, University of Texas San Antonio; Music Director, Youth Orchestras of San Antonio
Gregory Sauer, Professor of Cello, Florida State University
Yevgeniy Sharlat, Associate Professor of Composition, University of Texas at Austin
Patricia Shih, Associate Professor of Violin, Baylor University
Michael Webster, Professor of Music, Rice University; Artistic Director, Houston Youth Symphony
Read Bios