Senior Division String & Piano Category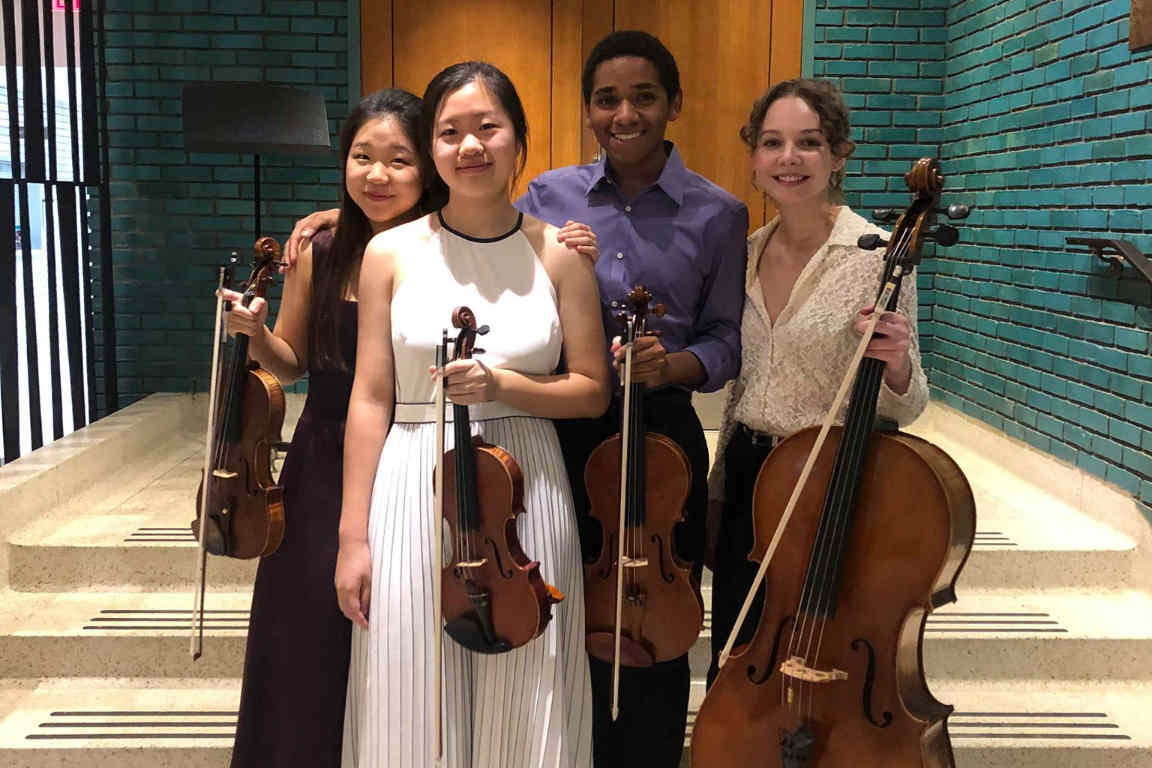 1st Place and Grand Prize TIE: Elless Quartet
Cleveland, OH
Repertoire:
Maurice Ravel: String Quartet in F Major; I. Allegro moderato–très doux 
Joseph Haydn: String Quartet No. 31 in B Minor, Op. 33, No. 1; IV. Finale: Presto
The Elless Quartet was formed in 2019 at the Cleveland Institute of Music. Comprised of members Ju-Eun Lee (violin), Megan Lin (violin), Marcus Stevenson (viola) and Cecelia Swanson (cello), the ensemble works with Si-Yan Li, Todd Phillips and Philip Setzer, and have also performed in masterclasses for the Emerson, Orion, Dover and Miami Quartets. The members have also participated in various music festivals, including the Bowdoin International Music Festival, Heifetz International Music Institute, Sarasota Music Festival, and Saint Paul Chamber Music Institute. Hailing from different parts of the world, the quartet strives to bring diversity into the classical music world.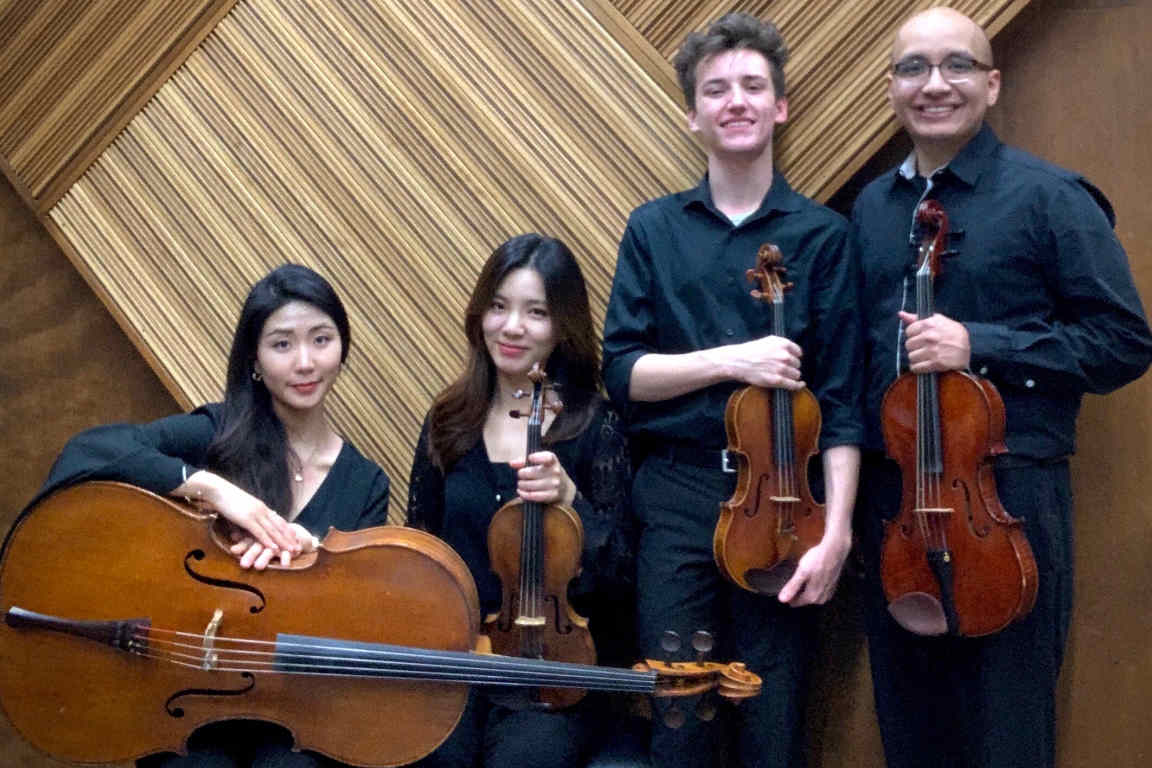 1st Place and Grand Prize TIE: Favola Quartet
Austin, TX
Repertoire:
Joseph Haydn: String Quartet No. 63 in B flat Major, Op. 76, No. 4; I. Allegro con spirito
Felix Mendelssohn: String Quartet No. 6 in F Minor, Op. 80; I. Allegro vivace assai
The Favola Quartet is an emerging string quartet comprised of violinists Haeni Lee and Nick Hammel, violist Ruben Balboa, and cellist Chan Song An. They all met at the University of Texas while studying with Sandy Yamamoto, Roger Myers, and Bion Tsang. They are currently being coached by Sandy Yamamoto and John Largess.
Senior Division Mixed Instrumental Category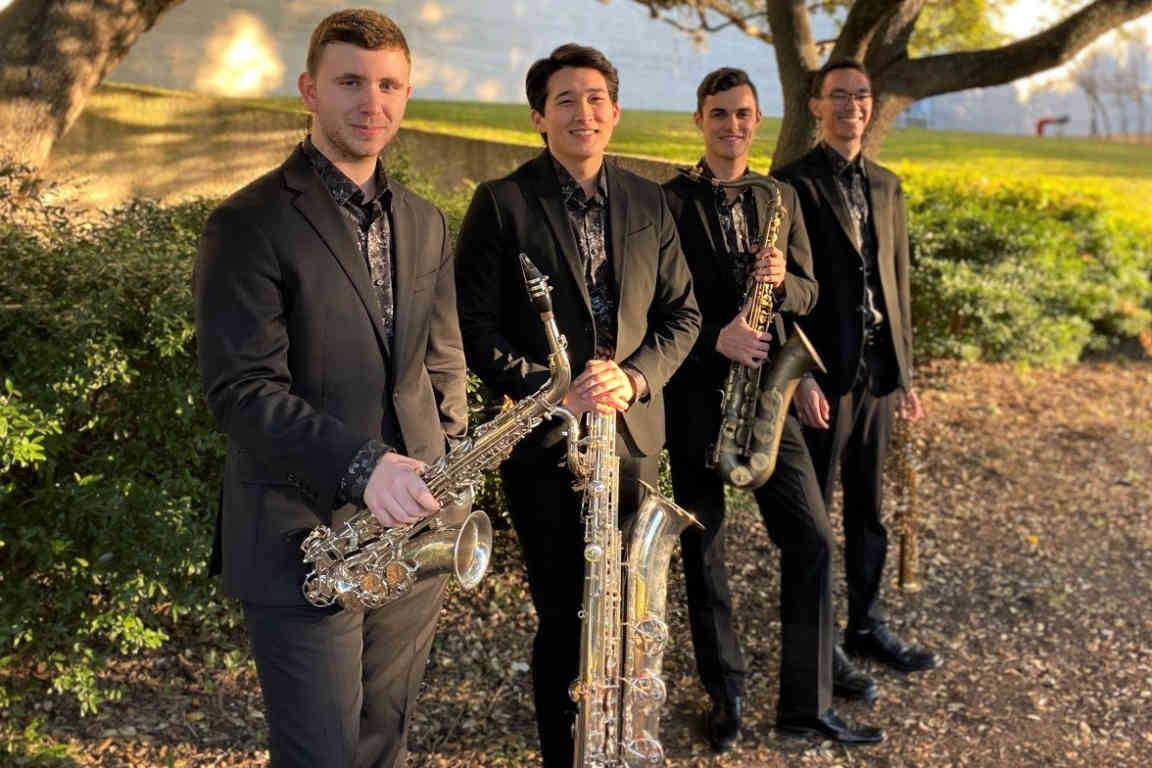 1st Place: Inan Quartet
Austin, TX
Repertoire:
Guillermo Lago: Cuidades; Córdoba (España)
John Anthony Lennon: Elysian Bridges
Comprised of members of the University of Texas at Austin saxophone studio, the Inan Quartet strives to create and share meaningful musical experiences with audiences from all walks of life. Its members have competed and performed across the country, doing so as early as high school. Under the tutelage of Dr. Stephen Page, the quartet seeks to push the boundaries of chamber and saxophone music alike.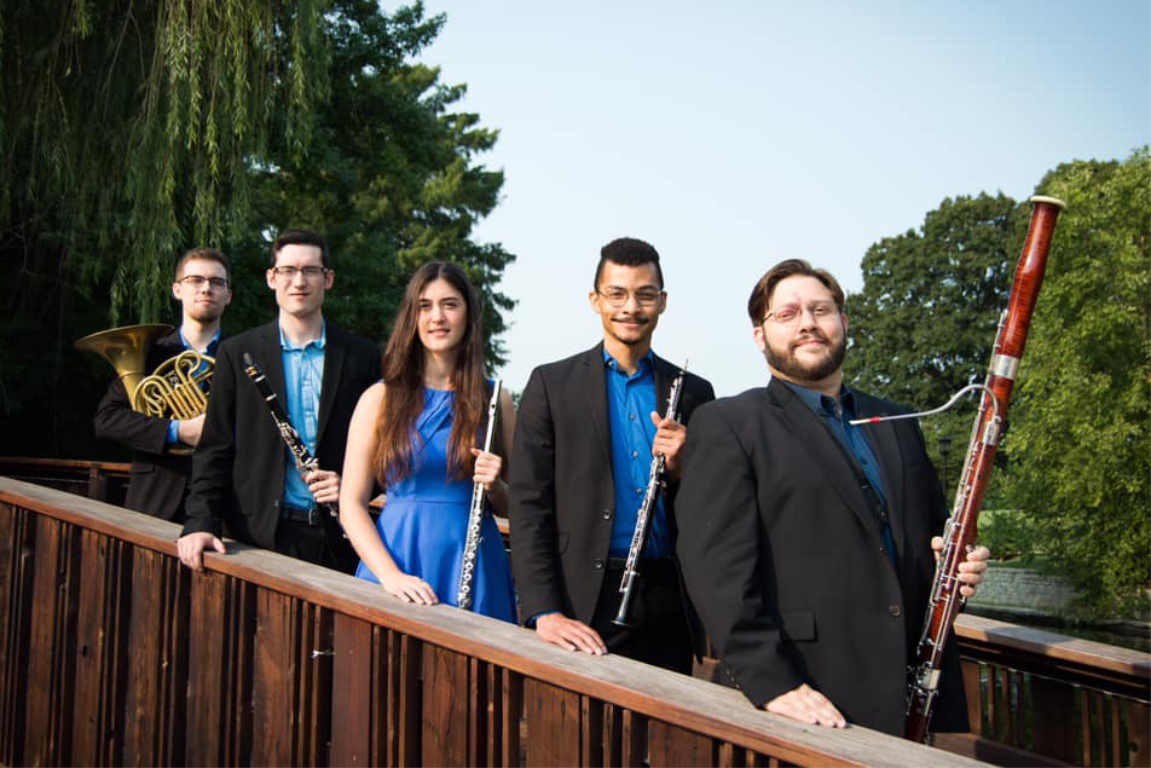 2nd Place: Plaza Winds
Kansas City, MO
Repertoire:
Endre Szervánszky: Quintet for Winds; I. Adagio–Allegro moderato
Astor Piazzolla: Libertango
Plaza Winds is the fellowship woodwind quintet at the Conservatory of Music and Dance at the University of Missouri-Kansas City (UMKC). This fellowship ensemble changes personnel yearly, as each member is on a scholarship until their degree is received. The name "Plaza Winds" comes from the Country Club Plaza area of Kansas City, located directly adjacent to UMKC's campus. This ensemble gives back to the greater Kansas City area with several dozen performances a year, at local schools, libraries, and retirement communities. Members of the ensemble hold positions with regional symphonies such as Topeka, Kansas and St. Joseph, Missouri.
Junior Division Mixed Instrumental Category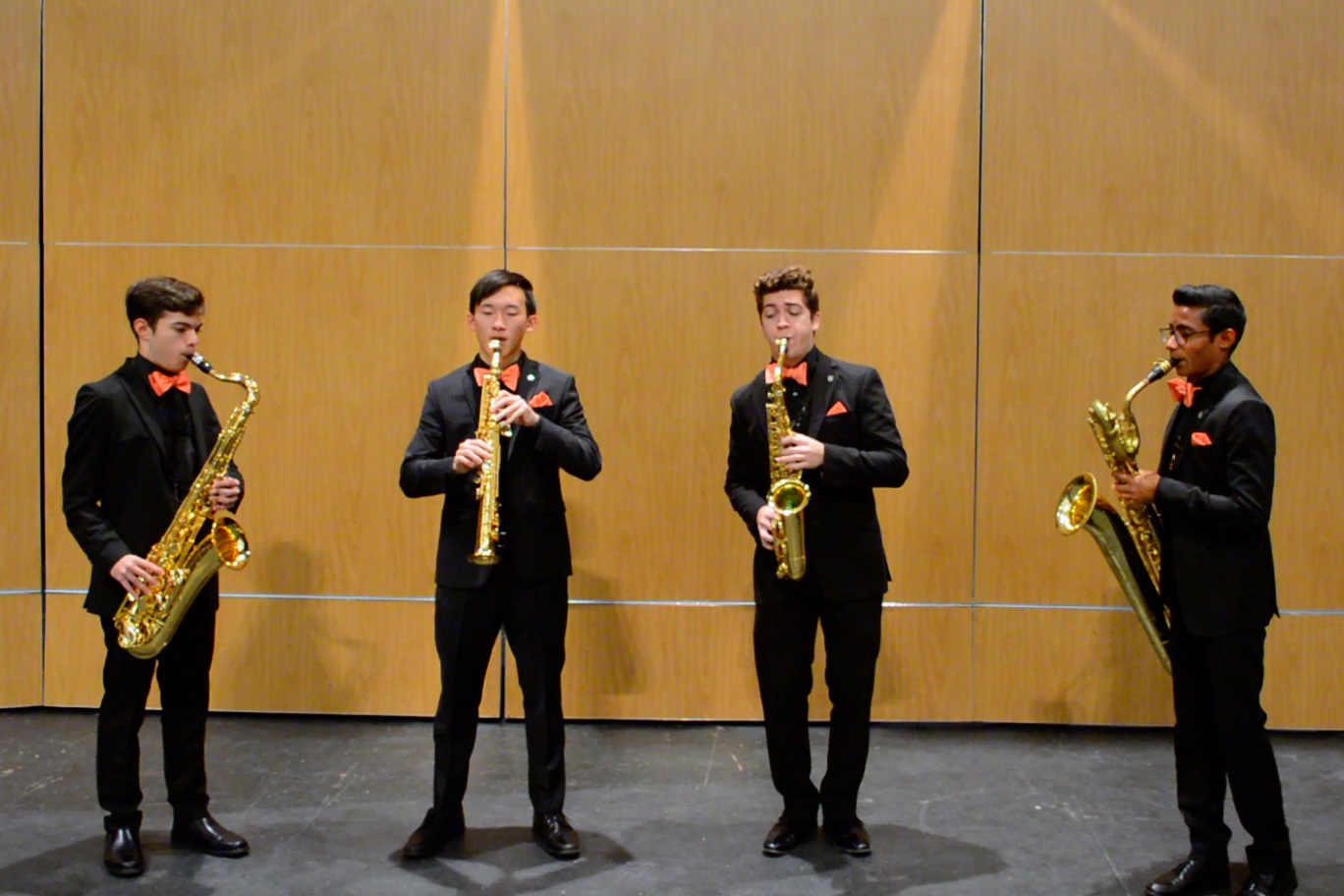 1st Place and Junior Division Grand Prize: Quid Nunc Saxophone Quartet
San Antonio, TX
Repertoire:
William Albright: Fantasy Etudes; II. Pypes
David Maslanka: Recitation Book; V. Fanfare/Variations on "Durch Adams Fall"
Quid Nunc Saxophone Quartet formed in the winter of 2013 and has been a leading advocate and competitor in the chamber music community ever since. QNSQ has won the top prize at the Coltman Chamber Music Competition (2017 & 2018), the Houston Underground Saxophone Quartet Competition (2016, 2017, 2018), Texas Public Radio's "Sounds Like KPAC" Competition (2015, 2016, 2018), and was named a quarterfinalist in the 2016, 2017, 2018 and 2019 Fischoff National Chamber Music Competitions. In 2015 QNSQ performed as a feature group at the 69th annual Midwest Band and Orchestra Clinic, premiering two new works for saxophone quartet. Members of Quid Nunc attend Ronald Reagan High School.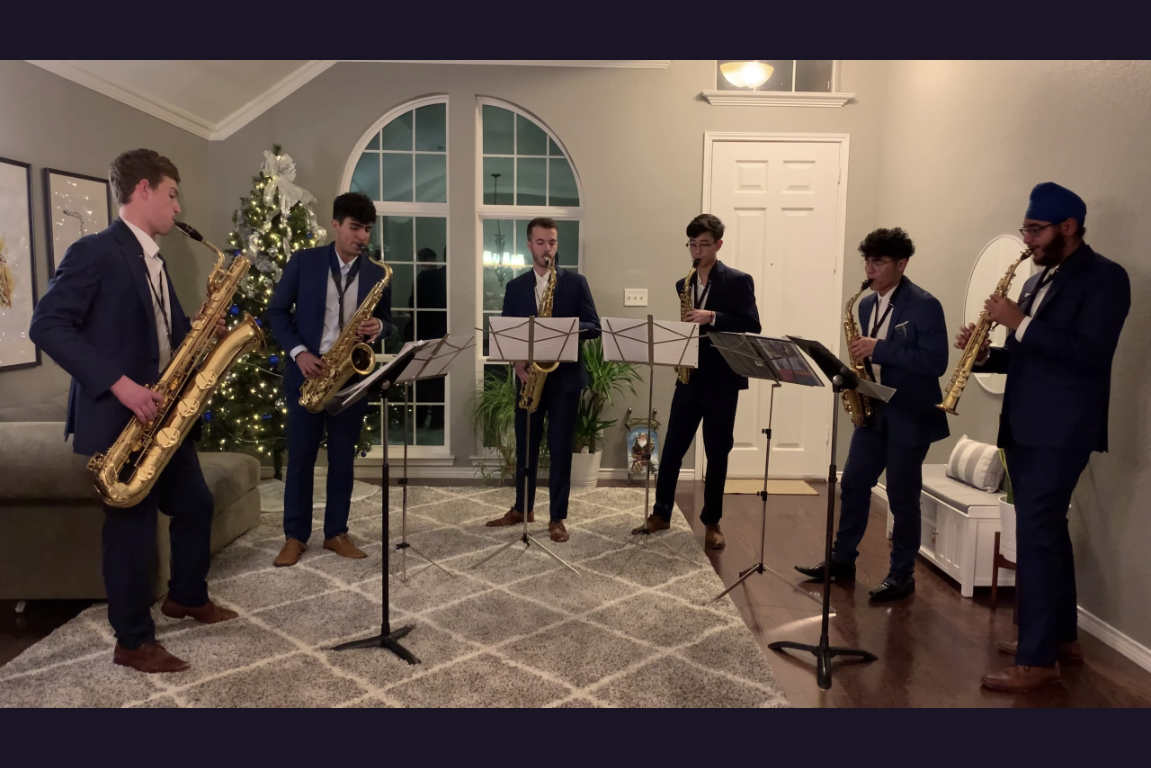 2nd Place: Quantum Sextet
Carrollton, TX
Repertoire:
Pyotr Tchaikovsky: Souvenir de Florence, Op. 70; IV. Allegro vivace
Chris Evan Hass: Volcanic Ash
Formed in the summer of 2019 in Carrollton, Texas, the Quantum Sextet consists of Ekdev Rajkitkul, GianCarlo Lay, Brandon Sanchez, Austin Dreyer, Jason Hamdan, and Peyton Joffre. Members of the group have received many honors, including first prizes in the 4th Edition of the ENKOR International Music Chamber Music Competition, 1st place at 6th Annual Coltman Chamber Music Competition, 2nd place in the 46th Annual Fischoff Competition, various top finishes in the Houston Underground Saxophone Competition (Junior Division and High School Division), Texas All-State Band placement, and more. Quantum Sextet attends Hebron High School.
Junior Division String & Piano Category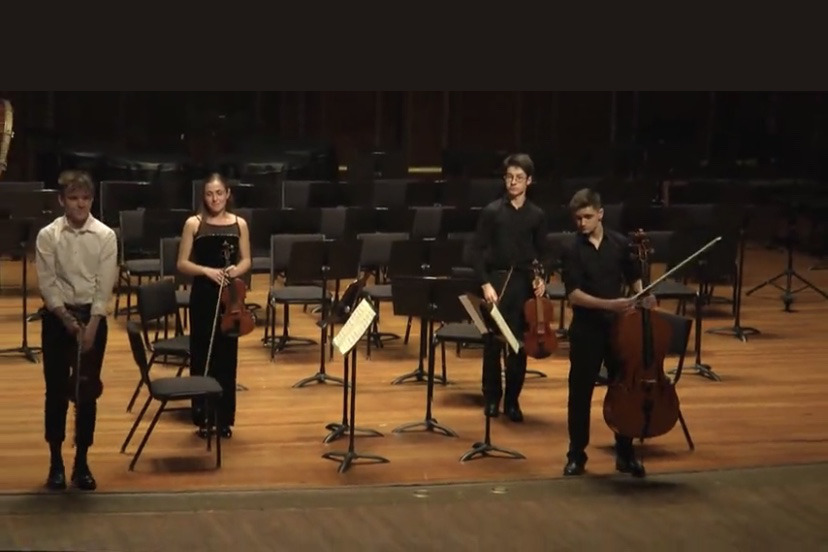 1st Place: Kaza Quartet
Boston, MA
Repertoire:
Joseph Haydn: String Quartet No. 67 in F Major, Op. 77, No. 2; I. Allegro moderato
Sergei Prokofiev: String Quartet No. 2 in F Major, Op. 92; I. Allegro sostenuto
The Kaza Quartet was formed in September of 2019 as part of the Chamber Music Intensive Performance Seminar (CHIPS) at New England Conservatory Prep. Individually, each study with chamber musicians, namely Mai Motobuchi (Borromeo Quartet), Jonathan Ong (Verona Quartet), Mickey Katz, and Paul Biss. Having studied with and performed in masterclasses with experienced chamber musicians, Kaza strives to play at a professional level. Though the ensemble has only been together for a short while, sharing musical experiences comes naturally, making the CHIPS program one of our most memorable, and fulfilling, artistic experiences to date.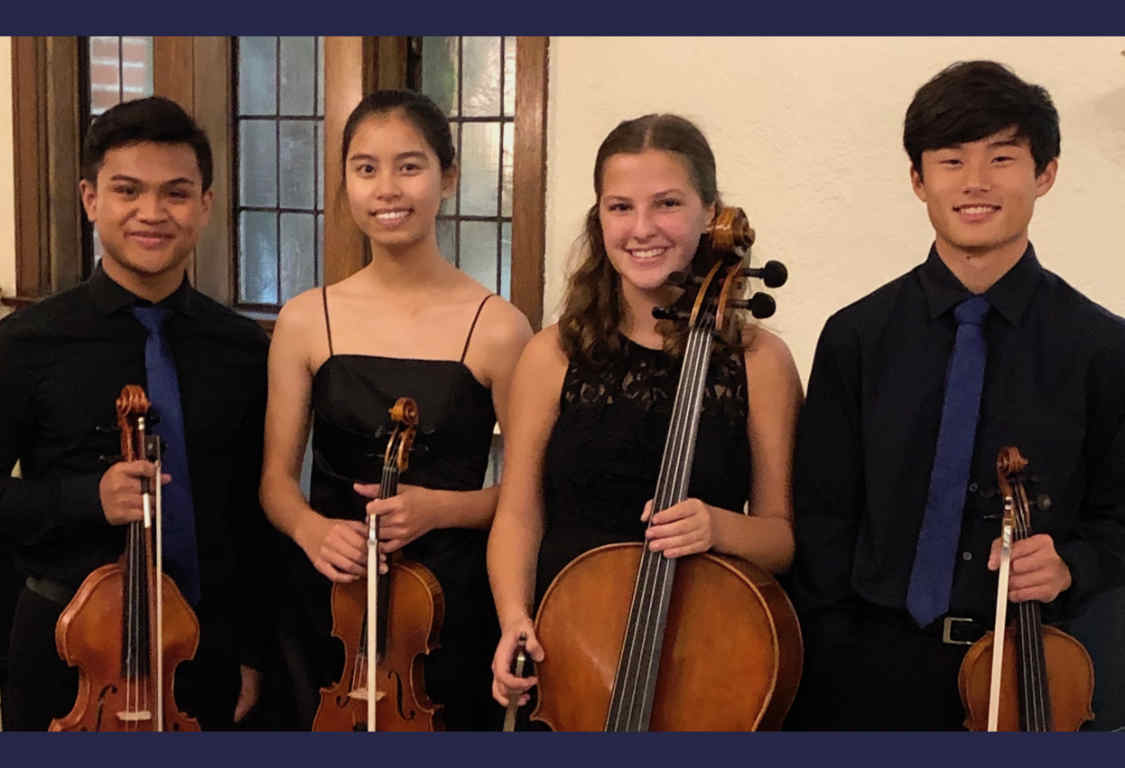 2nd Place: Dajj String Quartet
Worthington, OH
Repertoire
Joseph Haydn: String Quartet No. 31 in B Minor, Op. 33, No. 1; IV. Finale: Presto
Dmitri Shostakovich: String Quartet No. 3 in F Major, Op. 73; III. Allegro non troppo
The Dajj Quartet formed in 2015 at the Chamber Music Connection by Artistic Director Deborah Price. Dajj consists of Anna Linder and Mathais Koo, violins, Kate Fornshell, cello, and Julian Tugaoen, viola. Prizes include 2019 WDAV YCMC 1st Place & Audience Prize, 2019 OSTA First Prize, 2018 Saint Paul Gold Medal and Haydn Prize, 2018 Coltman Bronze Medal, 2018 M-Prize and 2018/2019 Fischoff Semi-finalists, 2017 Discover Grand Prize, 2017 Saint Paul Bronze Medal. Dajj has ​worked with Jinjoo Cho, Dmitry Kouzov, ​Peter Salaff, Erika Eckert, Hayley Wolfe​, Dover, Calidore, KASA, Hausmann, Doric, St. Lawrence, and Harlem Quartets.
2020 Live Competition Judges
Faith DeBow, piano
Jack Delaney, conductor
Robert Freeman, piano
Misha Galaganov, viola
Steve Girko, clarinet
Jacob Harrison, conductor
Michael Jacobson, saxophone
Prudence McDaniel, cello