COLLEGIATE DIVISION
Grand Prize and String & Piano Category 1st Place: Fidelis Piano Trio
The Fidelis Trio is a graduate chamber ensemble at the University of Texas at Austin. The goal of Fidelis is to have faith between members, inspiring the trio to name the group Fidelis, meaning faith. The trio believes that in order to proceed in the same direction, one must have confidence in each other and produce a united sound. Moreover, Fidelis Trio hopes to make the public gain faith through our music-making.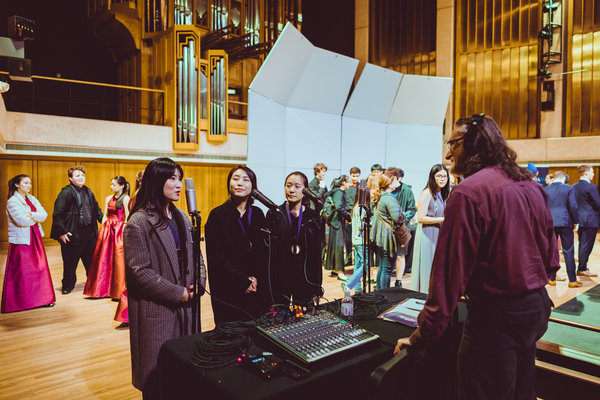 Ensemble Members:
Jihee Lim, violin
Eunhie Lim, cello
Yerim Rhee, piano
Repertoire:
Anton Arensky: Piano Trio No. 1 in D Minor, Op. 32 – I. Allegro moderato
Ludwig van Beethoven: Piano Trio in C Minor, Op. 1, No. 3 – I. Allegro con brio
String & Piano Category 2nd Place: Wundertrio
Members of the Wundertrio met at the Manchester Music Festival, in Vermont, during the summer of 2017. Right away, they felt a connection to each other and knew they wanted to work together in a long term project. Their plans solidified as they managed to plan a tour in the summer of 2018, where they played concerts in their homelands of Denmark, Canada, and the United States of America. Currently in a "long distance relationship," two of its members study at the University of Texas at Austin, and the third is at Rutgers University in New Jersey. The trio nonetheless continues to work on its goals of becoming an established ensemble.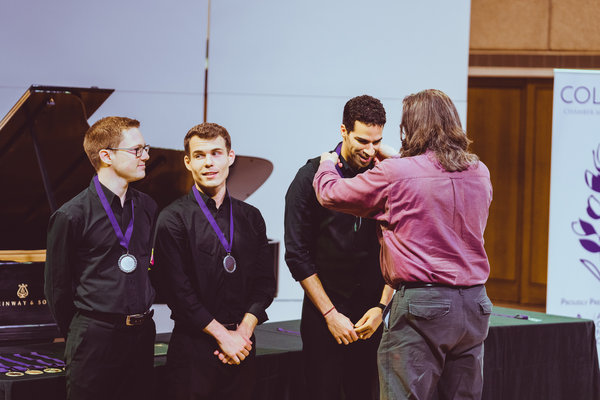 Ensemble Members:
Patrice Calixte, violin
Cory Blais, cello
Francesco Barfoed, piano
Repertoire:
Felix Mendelssohn: Piano Trio No. 1 in D Minor, Op. 49 – II. Andante con moto tranquillo
Dmitri Shostakovich: Piano Trio No. 2 in E Minor, Op. 67 – III. Largo, IV. Allegretto
Mixed Instrumental Category 1st Place: Seyon Saxophone Quartet
With a mission statement that includes the promotion new music, Seyon Saxophone Quartet has several commissions and premieres to their credit. Additionally, the members of Seyon have won several national and international competitions, including North American Saxophone Alliance and Music Teachers National Association competitions. The ensemble is coached by Dr. Christopher Creviston of Arizona State University.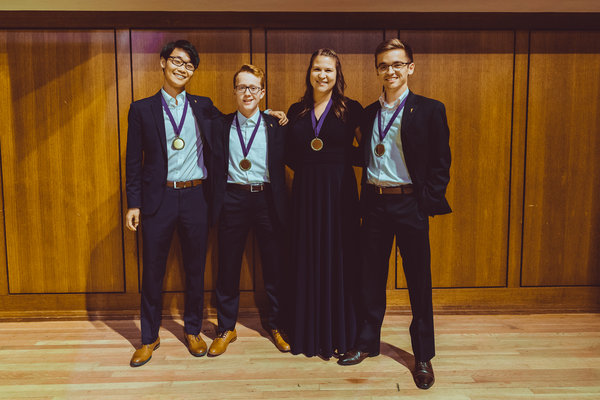 Ensemble Members:
Dylan Hong, soprano saxophone
Nathan Salazar, alto saxophone
Patrick Feher, tenor saxophone
Kristen Zelenak, baritone saxophone
Repertoire:
John Fitz Rogers: Prodigal Child
Clint Bleil: The Jig
Mixed Instrumental Category 2nd Place: Aruna Quartet
The Aruna Quartet formed at Texas Tech University in the Fall of 2015. Aruna has competed twice at The Fischoff National Chamber music competition and was selected as a semifinalist in 2018. The quartet was the MTNA State competition winner in 2017, MTNA division winner in 2018, and a Coltman Chamber Music Competition Finalist in 2018. The Quartet is under the instruction of Professor David Dees and has received additional instruction by Frederick L. Hemke at the Snow Pond Music Festival.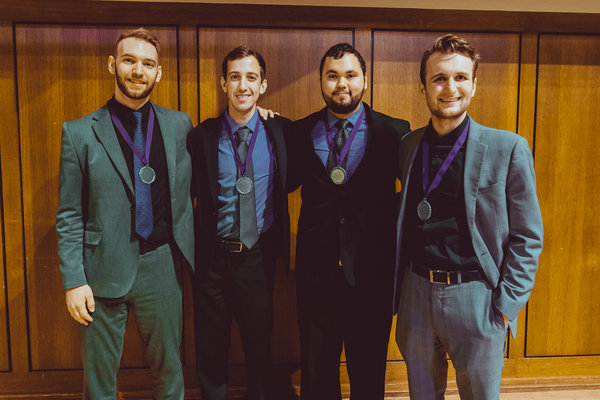 Ensemble Members:
William Pyle, soprano saxophone
Jose Guzman, alto saxophone
Ryan Hill, tenor saxophone
Andrew Schoen, baritone saxophone
Repertoire:
Frank Ticheli: Back Burner
William Albright: Fantasy-Etudes – II. Pypes
JUNIOR DIVISION
Grand Prize and String & Piano Category 1st Place: Arcus Trio
The Arcus Trio's name is inspired by the shape of an arc, emulating the breadth of distance between the continents from which its members hail, the arc of the trio's positioning, and the arc of the musical phrases they express together. Arcus members are a part of the Cleveland Institute of Music's (CIM) Young Artist Program and are coached by Si-Yan Darren Li and Carolyn Warner. In addition, the ensemble has performed in masterclasses given by members of the Emerson and Orion String Quartets as well as the Kalichstein-Laredo-Robinson Trio.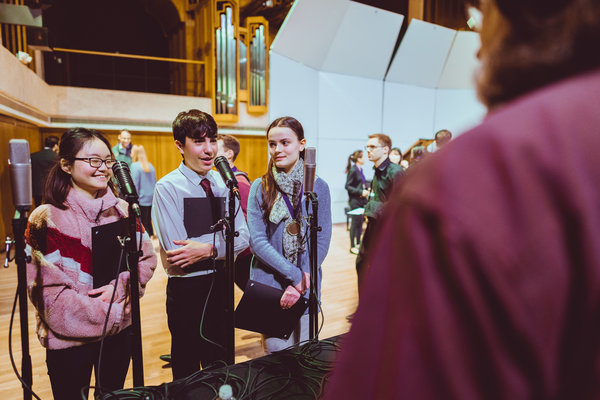 Ensemble Members:
Célina Béthoux, violin
Kate Huang, cello
Leo Gevisser, piano
Repertoire:
Ludwig van Beethoven: Piano Trio in D Major, Op. 70, No. 1 – I. Allegro vivace e con brio
Anton Arensky: Piano Trio No. 1 in D Minor, Op. 32 – I. Allegro moderato
String & Piano Category 2nd Place: Juniper Quartet
The all-female Juniper Quartet was formed at the beginning of the 2018-2019 school year. The quartet is under the direction of Dr. Brad Smith at the Kinder High School for Performing and Visual Arts in Houston, Texas. They were honored to be one of the Houston Young Artist's Concert Scholarship recipients, and the members have attended camps such as Bowdoin International, Baylor Orchestra, Sewanee, Walnut Hill, and Manhattan in the Mountains. The quartet enjoys playing and working together on musical ideas and the natural intimacies of chamber music.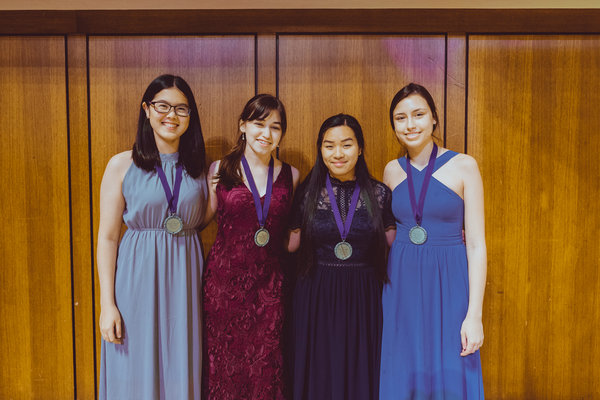 Ensemble Members:
Angela Goodearl, violin
Alexandra Maynard, violin
Lia Stallmann, viola
Sofia Puccio, cello
Repertoire:
Sergei Prokofiev: String Quartet No. 2 in F Major, Op. 92 – I. Allegro sostenuto
Claude Debussy: String Quartet in G Minor, Op. 10 – I. Animé et très décidé
Mixed Instrumental Category 1st Place: Quantum Quartet
Quantum Quartet was formed in the summer of 2016 in Carrollton, Texas. Members of the group have received many honors, including first prize in the 4th Edition of the ENKOR International Music Chamber Music Competition, selection to participate in the 2016 North American Saxophone Alliance High School Saxophone Ensemble, 2nd place at 5th Annual Coltman Chamber Music Competition, various top finishes in the Houston Underground Saxophone Competition (Junior Division and High School Division), Texas All-State Band placement, and more. Quantum Quartet attends Hebron High School in Carrollton, Texas.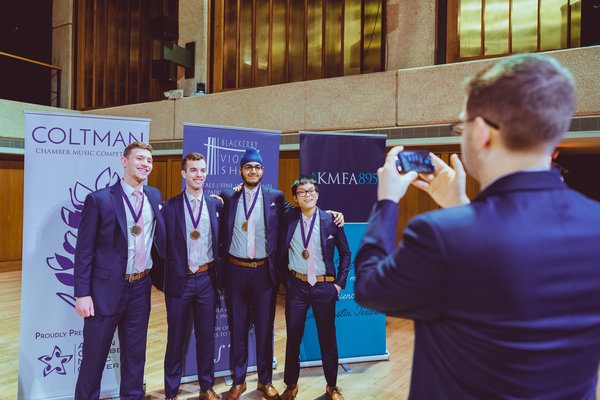 Ensemble Members:
Bruce Moe, soprano saxophone
Ekdev Rajkitkul, alto saxophone
Austin Dreyer, tenor saxophone
Peyton Joffre, baritone saxophone
Repertoire:
Felix Mendelssohn, arr. Bob Eason: Four Pieces for String Quartet, Op. 81 – III. Capriccio. Andante con moto
David Maslanka: Recitation Book – V. Fanfare/Variations on "Durch Adams Fall"
Mixed Instrumental Category 2nd Place: Legatum Quartet
Legatum means legacy in Latin. All four members have a passion for saxophone ensemble performance, and would like the juniors under them to be inspired and continue this tradition and passion for many years. They have been playing together for roughly 7 months and all enjoy performing the saxophone individually, but realized there were unique blends that could only be produced in a quartet. The members of Legatum Quartet study privately with Kyle Stec, have been members of TMEA All-Region Band, and have moved on to All-Area. Additionally, Legatum Quartet was invited to perform at the 2018 Korean Festival. All quartet members attend Flower Mound High School in Flower Mound, Texas.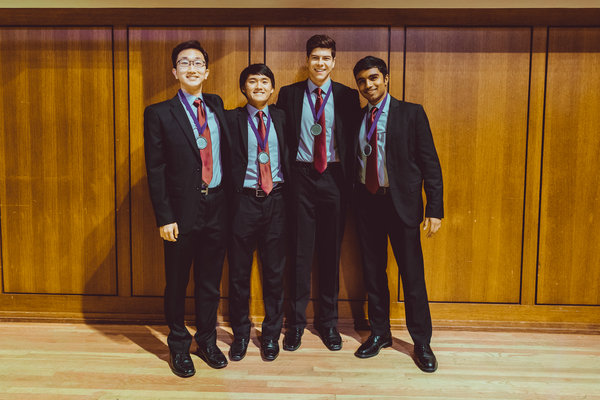 Ensemble Members:
Sean Lee, soprano saxophone
Thomas Kall, alto saxophone
Ryan Oh, tenor saxophone
Rishikesh Kulkami, baritone saxophone
Repertoire:
Guillermo Lago: Cuidades – Sarajevo (Bosnia and Herzegovina)
David Maslanka: Songs for the Coming Day – VIII. The soul is here for its own joy
2019 Competition Judges
Peter Bay, conductor
Eka Gogichashvili, violin
Donald Grantham, composer
Michael Ippolito, composer
Todd Oxford, saxophone
Håkan Rosengren, clarinet
Bion Tsang, cello
Colette Valentine, piano